Gartner Magic Quadrant for WAN Optimization (2016, 2015, 2014, 2013, 2012, 2011)
WAN optimization solutions continue to evolve, typically in support of three high-level needs:
Improve the response times as experienced by users of business-critical applications over WAN links or mobile connections, often addressing application performance problems caused by bandwidth constraints, latency or protocol limitations.
Assist in maximizing the ROI for WAN bandwidth, and delay costly bandwidth upgrades.
Optimize data-center-to-data-center (DC-to-DC) traffic for faster replication and synchronization.
In support of these needs, WAN optimization includes some or all of the following functionality:
Generic protocol- and application-protocol specific optimization to minimize the effects of network latency
Compression, deduplication or content caching to reduce the bandwidth required to transfer WAN traffic, as well as to improve user access times
Traffic identification, prioritization, policing and shaping to ensure acceptable access for missioncritical applications during periods of high traffic load
Traffic monitoring and reporting to aid in troubleshooting and network planning
WAN path control, WAN virtualization or link load balancing to control traffic forwarding across multiple networks, such as Internet and Multiprotocol Label Switching Transport Profile (MPLS-TP) for resilience and to optimize utilization
Direct Internet access via the ability to forward traffic to public cloud services, while still controlling traffic forwarding to privately deployed applications
WAN optimization is typically deployed in-house via physical appliances in a symmetrical solution — that is, the devices are deployed at each end of the network connection, such as in the branch office and the data center. These appliances can also be deployed as virtual appliances or as a cloud resident service. For mobile or remote users, WAN optimization can be deployed as a soft client that runs on individual user devices. Some features, such as HTTP optimization and bandwidth management, can operate in an asymmetrical fashion, allowing deployment at either the branch or data center end of the network.
2016
Riverbed Technology has been recognized as a leader in the Gartner Magic Quadrant for WAN Optimization for the 9th Year in a row.
In December 2014, Riverbed was acquired by Thoma Bravo, the same private equity firm that took Blue Coat private in 2012.
2015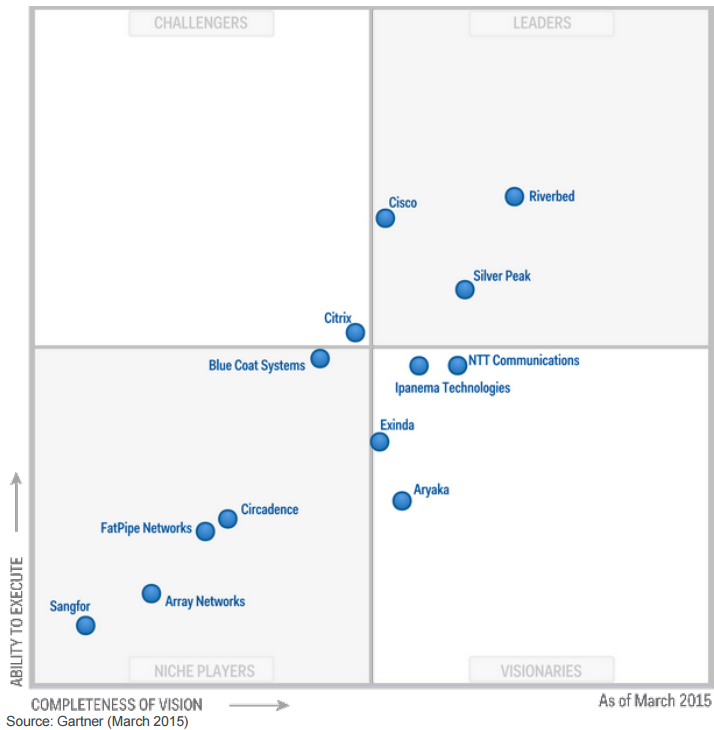 Source: Gartner (March 2015): Gartner Magic Quadrant for WAN Optimization 2015




Note: 
http://innetworktech.com/wp-content/uploads/2015/04/Magic-Quadrant-for-WAN-Optimization.pdf