Gartner Magic Quadrant for Enterprise Network Firewall (2010-2022)
Based on Gartner's definition, the enterprise network firewall " is composed primarily of purpose-built appliances for securing enterprise corporate networks. Products must be able to support single-enterprise firewall deployments and large and/or complex deployments, including branch offices, multitiered demilitarized zones (DMZs) and, increasingly, the option to include virtual versions for the data center. Customers should also have the option to deploy versions within Amazon Web Services (AWS) and Microsoft Azure public cloud environments. These products are accompanied by highly scalable (and granular) management and reporting consoles, and there is a range of offerings to support the network edge, the data center, branch offices and deployments within virtualized servers and the public cloud. "
Here is the difference from UTM appliance, which  UTM approaches are suitable for small or midsize businesses (SMBs), but not for the remainder of the enterprise market.
2022
Fortinet, Palo Alto, and Check Point has once again been named a Leader in the 2022 Gartner® Magic Quadrant™ for Network Firewalls.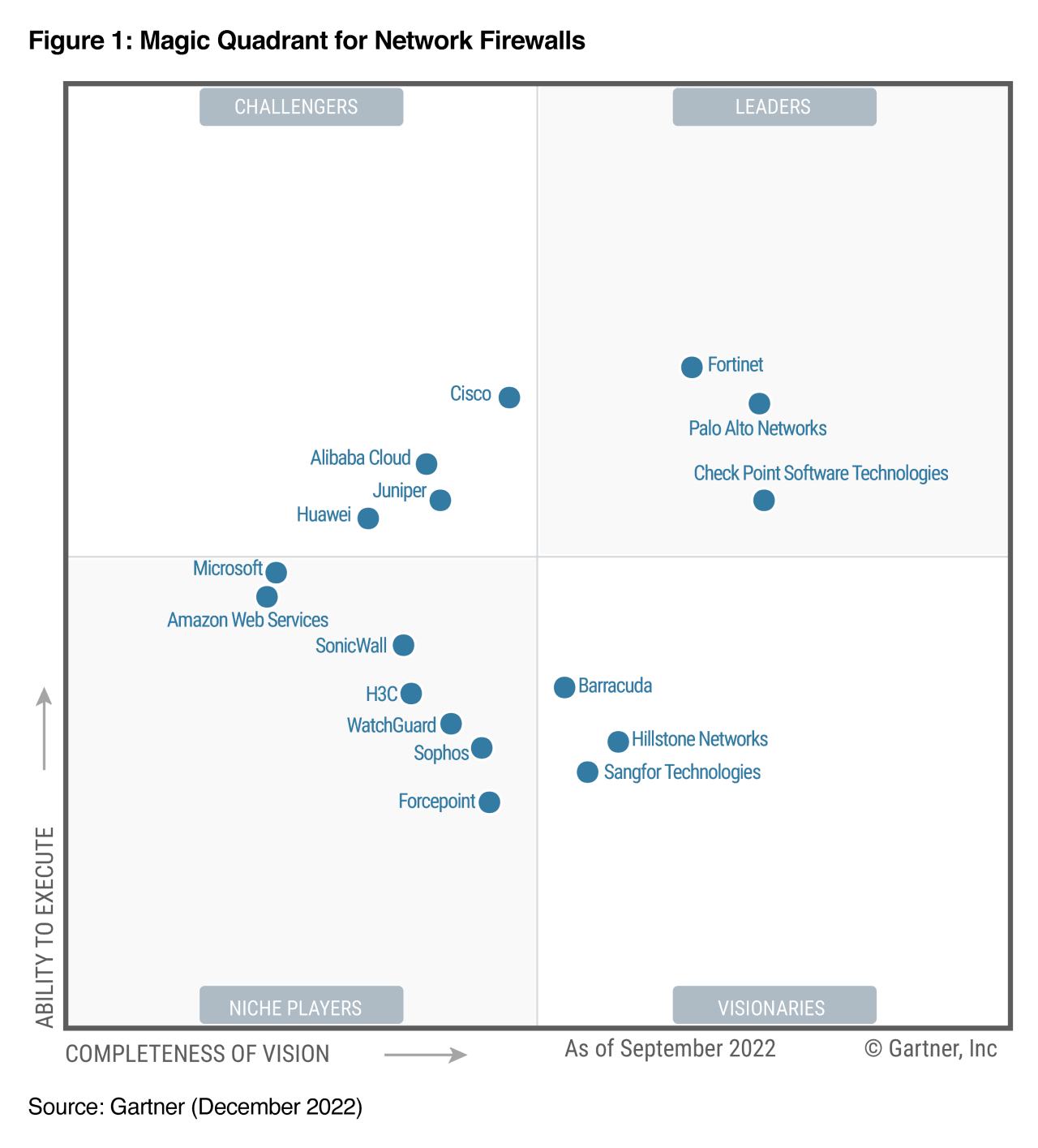 2021
Fortinet is in Leader quadrant since 2016.
2020
2019
Cisco comes back to Leaders quadrant again. Palo Alto, Fortinet and Check Point are still doing well as Leaders.
2017 Gartner Magic Quadrant for Enterprise Network Firewalls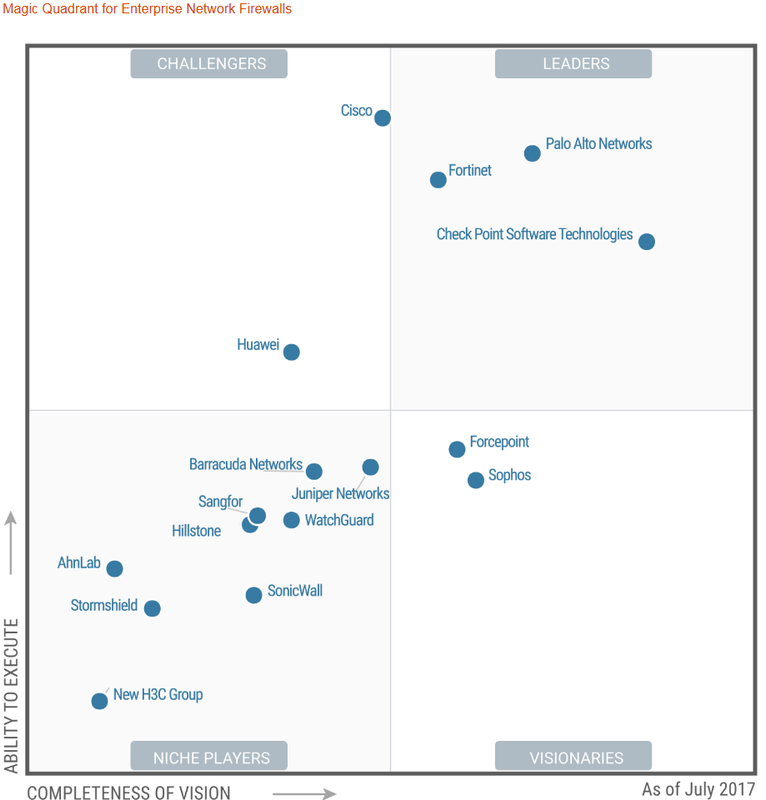 2017 Gartner Magic Quadrant for Enterprise Network Firewalls
2016 Gartner Magic Quadrant for Enterprise Network Firewalls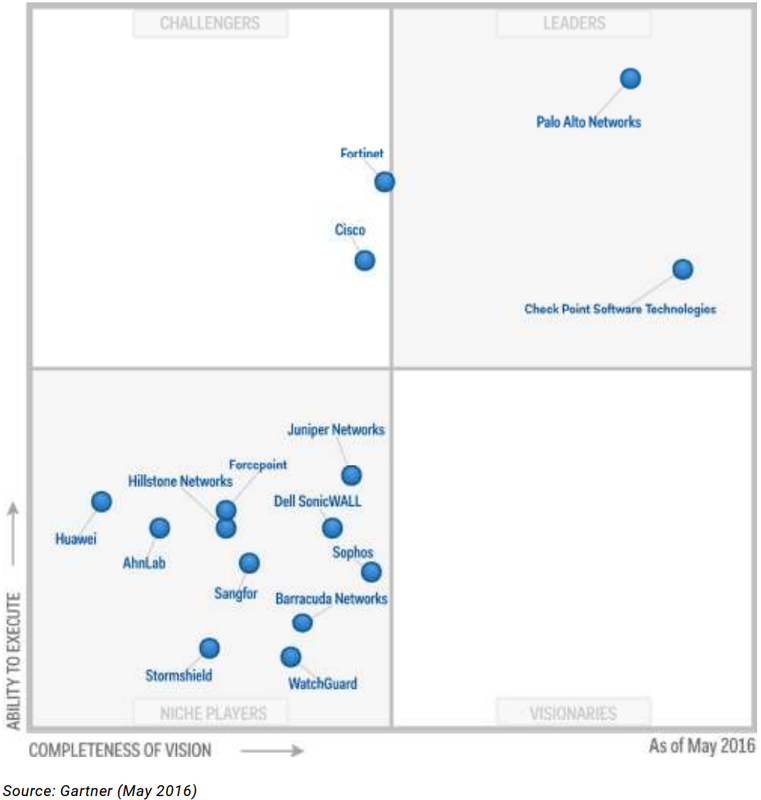 Reference:
https://www.amerinet.com/sites/default/files/2016%20FW%20gartner%20report.pdf
2015 Gartner Magic Quadrant for Enterprise Network Firewalls

Gartner, Inc. has released the latest Magic Quadrant for Enterprise Network Firewalls on April 22, 2015:

The biggest change in this year is Juniper lost their challengers position in the magic quadrant based on following reasons. In 2010 Juniper was in leaders quadrant:
"Juniper is assessed as a Niche Player for enterprises, mostly because we see it selected in concert with other Juniper offerings, rather than displacing competitors based on its vision or features, and we see it being replaced in enterprise environments more often than we see it selected. Juniper is, however, shortlisted and/or selected in mobile service provider deployments and large-enterprise data center deployments, primarily because of price and high throughput on its largest appliances." - From Gartner report.
Other small changes from 2014 to 2015:
Fortinet is doing pretty good and geting closer to Leaders Quadrant. 
In the leader Quadrant, the position between Palo Alto and Check Point is getting closer and closer for last four years.
CheckPoint has been in Leaders Magic Quadrant Since 1997, and Palo Alto becomes leaders since 2011.
2014 Gartner Magic Quadrant for Enterprise Network Firewall:
Palo Alto and Checkpoint position into leader quadrant again.
This is the third year for Palo Alto and seventeenth year for Checkpoint to list in the leader quadrant.
2013 Gartner Magic Quadrant for Enterprise Network Firewall:
Note: There is no 2012 Gartner Magic Quadrant for Enterprise Network Firewall
2011 Gartner Magic Quadrant for Enterprise Network Firewalls
2010 Gartner Magic Quadrant for Enterprise Network Firewall:
Reference: