Add "Related Links" Widgets for Your Websites and Blogs
The related posts are picked from your existing posts which has similar contents/labels/categories/tags. Some online services provide free widgets to show those related stories from your blog archive.It can under your post , or show at bottom of pages. Here are some popular websites to provide this free widget.
1. Addthis
AddThis is a social sharing tool that appears on a lot of websites. It is often displayed as a "share" button that expands to show a vast array of sharing options. Add this quickly allowed webmasters to add sharing features to their websites that fit well with the design and layout and didn't cost a ton of custom coding. The email updates from Addthis whenever there is a traffic spike on a certain page on the site or there is spike on sharing.
Addthis provides: .
Share Buttons
Follow Buttons
Related Posts
List Building
Link Promotion
2. Linkwithin
LinkWithin is a blog widget that appears under each post, linking to related stories from your blog archive.
The widget is free. It takes a minute to get the widget up and running on blog, no signup required!
3. Limk
Limk provides smarter content recommendations and interested in making your website visitors stay longer, and consume more of your content.
Limk is also only one I found it is working well on Weebly.com platform.
Example link
. You will also be able to get report how well your links have been clicked.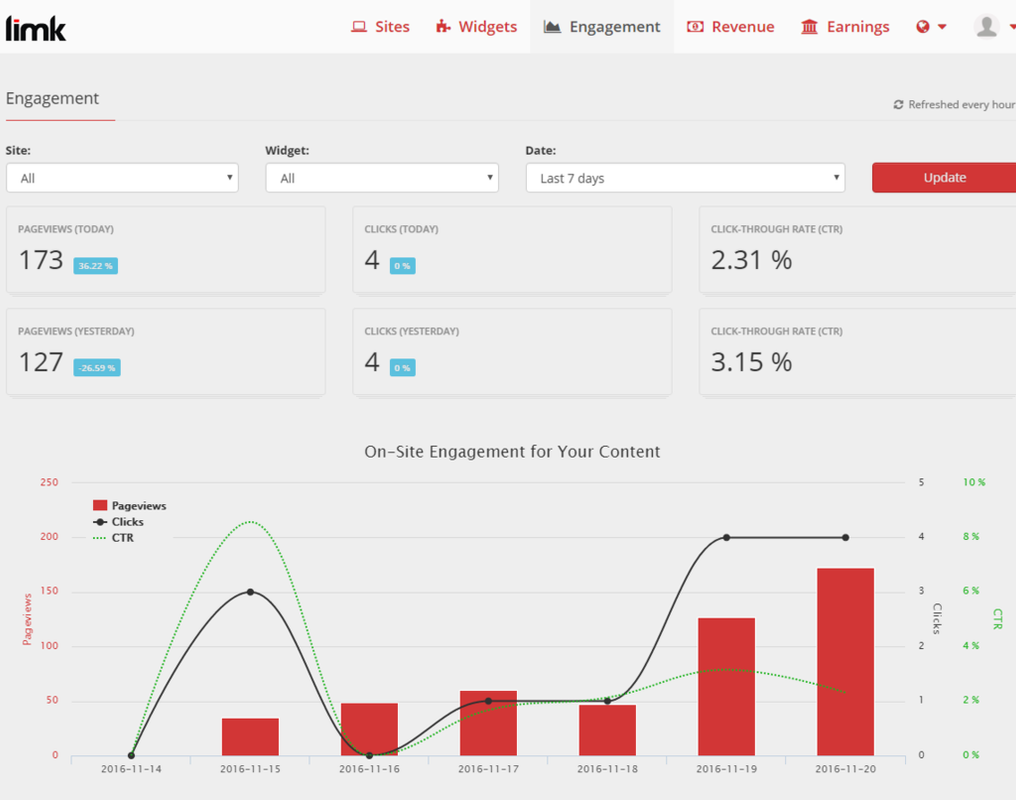 Limk Dashboard
4. Engageya
Engageya's Advantages:
Native contextual ad unit generates high traction rates and increased user engagement.
Technology is compatible with all languages and devices.
As your new advertising channel, it is an incremental revenue stream.
Reference: