Top CyberSecurity Architect Related Resources
Here are lists what I am using in my environment for Daily IT network security work. Hope it will help other network security administrator / analyst / architecture to compare with their environment. Please leave me a message if you do see there are some topics missing in my list. Most products and software are able to be found in the posts of this blog. Please use
sitemap page
or search box to look for related posts.
There are some other related posts in this blog:
IT Service
1.1 ITIL v3 :
ITIL service strategy - specifies that each stage of the service lifecycle must stay focused upon the business case, with defined business goals, requirements and service management principles.     
ITIL service design - provides guidance for the production and maintenance of IT policies, architectures and documents. 
ITIL service transition - focuses upon change management role and release practices, providing guidance and process activities for transitioning services into the business environment.     
ITIL service operation - focuses upon delivery and control process activities based on a selection of service support and service delivery control points.     
ITIL continual service improvement - focuses upon the process elements involved in identifying and introducing service management improvements, as well as issues surrounding service retirement.
1.2 IBM Maximo Asset Management : 
Maximo Asset Management is an Enterprise Asset Management system that provides comprehensive support for asset, maintenance, resource and parts supply chain management needs. 
Video
 Link . Includes  following modules:
Asset management
Work management
Inventory mnagement
Procurement management
Contract Management
Service management
KPIs/Reporting/Analysis
Security/Administration
Service-Oriented Architecture Platform
1.3 ServiceNow : 
Achieve end to end transformation for your IT services and infrastructure through a single cloud based platform. ServiceNow® IT Service Management (ITSM) lets you consolidate fragmented tools and legacy systems while automating service management processes. It's simple to configure and fast to deploy, so you can go live quickly with confidence, while scaling to your business needs.
1.4 Marval IT Service Management (ITSM) MSM Software:
 MSM is an integrated, innovative, multi-level IT service management (ITSM) software solution - a secure, reliable, scalable and stable ITSM technology that supports IT business services and growth strategies of your organisation.
Security Framework
An information security framework is a series of documented processes that are used to define policies and procedures around the implementation and ongoing management of information security controls in an enterprise environment. These frameworks are basically a "blueprint" for building an information security program to manage risk and reduce vulnerabilities. Information security pros can utilize these frameworks to define and prioritize the tasks required to build security into an organization.
2.1 
ISO27000
The ISO 27000 series of standards have been specifically reserved by ISO for information security matters.
ISO27001:This is the specification for an information security management system (an ISMS) which replaced the old BS7799-2 standard.

 ISO/IEC 27001:2013 has ten short clauses, plus a long annex, which cover:

1. Scope of the standard
2. How the document is referenced
3. Reuse of the terms and definitions in ISO/IEC 27000
4. Organizational context and stakeholders
5. Information security leadership and high-level support for policy
6. Planning an information security management system; risk assessment; risk treatment
7. Supporting an information security management system
8. Making an information security management system operational
9. Reviewing the system's performance
10. Corrective action
Annex A: List of controls and their objectives

There are now 114 controls in 14 clauses and 35 control categories; the 2005 standard had 133 controls in 11 groups.

A.5: Information security policies (2 controls)
A.6: Organization of information security (7 controls)
A.7: Human resource security - 6 controls that are applied before, during, or after employment
A.8: Asset management (10 controls)
A.9: Access control (14 controls)
A.10: Cryptography (2 controls)
A.11: Physical and environmental security (15 controls)
A.12: Operations security (14 controls)
A.13: Communications security (7 controls)
A.14: System acquisition, development and maintenance (13 controls)
A.15: Supplier relationships (5 controls)
A.16: Information security incident management (7 controls)
A.17: Information security aspects of business continuity management (4 controls)
A.18: Compliance; with internal requirements, such as policies, and with external requirements, such as laws (8 controls)

ISO 27002:This is the 27000 series standard number of what was originally the ISO 17799 standard (which itself was formerly known as BS7799-1)..
ISO 27003:This will be the official number of a new standard intended to offer guidance for the implementation of an ISMS (IS Management System) .

ISO 27004:This standard covers information security system management measurement and metrics, including suggested ISO27002 aligned controls..
ISO 27005: This is the methodology independent ISO standard for information security risk management..

ISO 27006: This standard provides guidelines for the accreditation of organizations offering ISMS certification.
2.2 COBIT
COBIT (Control Objectives for Information and Related Technologies) is a good-practice framework created by international professional association ISACA for information technology (IT) management and IT governance. COBIT provides an implementable "set of controls over information technology and organizes them around a logical framework of IT-related processes and enablers."
COBIT 5 is the only business framework for the governance and management of enterprise IT. , providing an end-to-end business view of the governance of enterprise IT that reflects the central role of information and technology in creating value for enterprises. In April 2012, COBIT 5 was released.
COBIT components include:
Framework: Organizes IT governance objectives and good practices by IT domains and processes and link them to business requirements.
Process descriptions: A reference process model and common language for everyone in an organization. The processes map to responsibility areas of plan, build, run, and monitor.
Control objectives: Provides a complete set of high-level requirements to be considered by management for effective control of each IT process.
Management guidelines: Helps assign responsibility, agree on objectives, measure performance, and illustrate interrelationship with other processes.
Maturity models: Assesses maturity and capability per process and helps to address gaps.
2.3 
NIST SP 800
 - 
CYBERSECURITY FRAMEWORK (CSF) 
National Institute of Standards and Technology (U.S. Department of Commerce)
"Security and Privacy Controls for Federal Information Systems and Organizations," provides a catalog of security controls for all U.S. federal information systems except those related to national security. The Cybersecurity Framework consists of three main components: the Core, Implementation Tiers, and Profiles.
The Framework Core provides a set of desired cybersecurity activities and outcomes using common language that is easy to understand.   The Core guides organizations in managing and reducing their cybersecurity risks in a way that complements an organization's existing cybersecurity and risk management processes.
The Framework Implementation Tiers assist organizations by providing context on how an organization views cybersecurity risk management. The Tiers guide organizations to consider the appropriate level of rigor for their cybersecurity program and are often used as a communication tool to discuss risk appetite, mission priority, and budget.
Framework Profiles are an organization's unique alignment of their organizational requirements and objectives, risk appetite, and resources against the desired outcomes of the Framework Core.  Profiles are primarily used to identify and prioritize opportunities for improving cybersecurity at an organization.
-----------------------------------------------------------------------------------------------------------------------
There is overlap between those frameworks so "crosswalks" can be built to show compliance with different regulatory standards. For example, ISO 27002 defines information security policy in section 5; COBIT defines it in the section "Plan and Organize"; Sarbanes Oxley defines it as "Internal Environment"; HIPAA defines it as "Assigned Security Responsibility"; and PCI DSS defines it as "Maintain an Information Security Policy." By using a common framework like ISO 27000, a company can then use this crosswalk process to show compliance with multiple regulations such as HIPAA, Sarbanes Oxley, PCI DSS and GLBA, to name a few.
2.4 CIS CSC (Center for Internet Security - Critical Security Controls)
The Center for Internet Security Critical Security Controls for Effective Cyber Defense is a publication of best practice guidelines for computer security. The project was initiated early in 2008 as a response to extreme data losses experienced by organizations in the US defense industrial base and recently.[1] The publication was initially developed by the SANS Institute, ownership was transferred to the Council on Cyber Security (CCS) in 2013 and then transferred to Center for Internet Security (CIS) in 2015. It was earlier known as the Consensus Audit Guidelines and it is also known as the CIS CSC, CIS 20, CCS CSC, SANS Top 20 or CAG 20.The CIS Critical Security Controls provide a highly practical and useful framework for every organization to use for both implementation and assessment. Because the Controls are developed by the community and based on actual threat data, they are an authoritative, industry-friendly, and vendor-neutral approach to assessment and auditing of security. (V7.0)
CSC 1: Inventory of Authorized and Unauthorized Devices
CSC 2: Inventory of Authorized and Unauthorized Software
CSC 3: Secure Configurations for Hardware and Software on Mobile Devices, Laptops, Workstations, and Servers
CSC 4: Continuous Vulnerability Assessment and Remediation
CSC 5: Controlled Use of Administrative Privileges
CSC 6: Maintenance, Monitoring, and Analysis of Audit Logs
CSC 7: Email and Web Browser Protections
CSC 8: Malware Defenses
CSC 9: Limitation and Control of Network Ports, Protocols, and Services
CSC 10: Data Recovery Capability
CSC 11: Secure Configurations for Network Devices such as Firewalls, Routers, and Switches
CSC 12: Boundary Defense
CSC 13: Data Protection
CSC 14: Controlled Access Based on the Need to Know
CSC 15: Wireless Access Control
CSC 16: Account Monitoring and Control
CSC 17: Security Skills Assessment and Appropriate Training to Fill Gaps
CSC 18: Application Software Security
CSC 19: Incident Response and Management
CSC 20: Penetration Tests and Red Team Exercises
2.5 ISA (International Society of Automation)
The International Society of Automation (ISA) volunteers have worked long and hard to adapt the National Institute of Standards (NIST) for information technology (IT) systems to the security and operational requirements of operating technologies (OT). The ISA99 committee has produced policies and practices that, when implemented properly, go a long way towards achieving the security needed for industrial automated control systems.
ISA/IEC-62443 is a series of standards, technical reports, and related information that define procedures for implementing electronically secure Industrial Automation and Control Systems (IACS).
Security Models
CIA Triad : Confidentiality, integrity and availability, also known as the CIA triad, is a model designed to guide policies for information security within an organization. The model is also sometimes referred to as the AIC triad (availability, integrity and confidentiality) to avoid confusion with the Central Intelligence Agency. The elements of the triad are considered the three most crucial components of security. Confidentiality is a set of rules that limits access to information, integrity is the assurance that the information is trustworthy and accurate, and availability is a guarantee of reliable access to the information by authorized people.
Cisco offers the integrated security solution, which delivers services above and beyond the "one size fits all" model. In addition, Cisco services are designed to deliver value throughout the entire network life cycle that includes the stages of prepare, plan, design, implement, operate, and optimize (PPDIOO). the Cisco PPDIOO model,  encompasses all the steps from network vision to optimization, enabling Cisco to provide a broader portfolio of support and end-to-end solutions to its customers.
Cisco Network Security Design Steps: Following a structured set of steps when developing and implementing network security will help you address the varied concerns that play a part in security design. Many security strategies have been developed in a haphazard way and have failed to actually secure assets and to meet a customer's primary goals for security. Breaking down the process of security design into the following steps will help you effectively plan and execute a security strategy:
Identify network assets.
Analyze security risks.
Analyze security requirements and tradeoffs.
Develop a security plan.
Define a security policy.
Develop procedures for applying security policies.
Develop a technical implementation strategy.
Achieve buy-in from users, managers, and technical staff.
Train users, managers, and technical staff.
Implement the technical strategy and security procedures.
Test the security and update it if any problems are found.
Maintain security.
PDCA (plan-do-check-act): PDCA (plan-do-check-act, sometimes seen as plan-do-check-adjust) is a repetitive four-stage model for continuous improvement (CI) in business process management.PDCA was popularized by Dr. W. Edwards Deming, an American engineer, statistician and management consultant. Deming is often considered the father of modern quality control (QC).
Information Security Related Laws, Acts, Industry Standards (Canada)
For businesses operating in Canada, information security is a must, like any other businesses operating elsewhere. While data breach notifications are not mandatory (except in Alberta and Ontario, New Brunswick, Newfoundland for health information), this may change with the possible passing of Digital Privacy Act, and with PCI compliance being a must to conduct business online, information security is vital.
4.1 Federal Privacy Laws
The Personal Information Protection and Electronic Documents Act (PIPEDA) - which covers how businesses handle personal information.

PIPEDA sets the ground rules for how private-sector organizations collect, use, and disclose personal information in the course of for-profit, commercial activities across Canada. It also applies to the personal information of employees of federally-regulated businesses such as:banks, airlines, telecommunications companies. Ratified in 2004.
In 2015, the Canadian government passed the Digital Privacy Act (DPA), giving Canadian businesses mandatory breach notification requirements and harsh penalties if they don't adhere. As of 

November 1, 2018

, organizations in Canada subject to the 

Personal Information Protection and Electronic Documents Act (PIPEDA)

 will face strict and onerous new privacy breach response requirements with respect to any data security safeguard breach. Under the 

Digital Privacy Act

, every organization that collects, uses and discloses personal information in the course of commercial activity in Canada (with a few exceptions) must follow new mandatory data breach record-keeping, reporting and notification rules – or face significant non-compliance consequences.
The Privacy Act - which covers how the federal government handles personal information; The Privacy Act only applies to federal government institutions listed in the Privacy Act Schedule of Institutions. It applies to all of the personal information that the federal government collects, uses, and discloses. This includes personal information about federal employees.
4.2 Other Federal Laws Relating to Information Security
Unauthorized use of a Computer (s. 342.1);
Identity Theft (s56.1, s402.1);
Mischief s. 430.(1.1);
Obscenity (s. 163);Corrupting Morals s. 163);
Making, Distributing, Selling, or Possession of Child Pornography s. 163.1).
Luring Children (s. 172.1);
Interception of Private Communication (s. 184);
Making Threats (s. 264);
Harassment (s. 264.1);
Promoting Hatred (s. 319);
Theft of Telecommunications Services (s. 326)
Devices to Break into Computers (s. 342.2);
Possession of Credit Card Data (s. 342.3)
Personation (s403);
Making Likenesses of bank notes with computer assistance (s. 457);
Counselling the Commission of an Offence (s. 464); and
Directing Criminal Offences for Criminal Organizations (s. 467.13),
Treasury Board policies, directives and standards relevant to this policy include the following:
4.3 Ontario  Privacy Laws
The Information and Privacy Commissioner of Ontario is responsible for overseeing and enforcing the following provincial access and privacy laws:
FIPPA - Freedom of Information and Protection of Privacy Act, Ontario's provincial public sector privacy law; FIPPA (The Freedom of Information and Protection of Privacy Act) came into force on Jan 1, 1988.
MFIPPA - Municipal Freedom of Information and Protection of Privacy Act, Ontario's municipal public sector privacy law; MFIPPA became law 3 year later on jan 1, 1991
PHIPA - Personal Health Information Protection Act, 2004, Ontario's privacy law relating to health records that has been that has been deemed "substantially similar" to the federal private sector privacy law with respect to health information custodians. PHIPA includes schedules A and B came into force on Nov 1, 2004.
4.4 Other Related Laws in Ontario
4.5 Government of Ontario Information Technology Standard
Notes:
Other Law, Industry Related Standards 
Information Security Related Laws, Acts, Industry Standards (U.S.)
HIPAA (Health Insurance Portability and Accountability Act) :HIPAA (Health Insurance Portability and Accountability Act of 1996) is United States legislation that provides data privacy and security provisions for safeguarding medical information.
The Sarbanes-Oxley Act of 2002, popularly known as SOX, also known as the "Public Company Accounting Reform and Investor Protection Act" (in the Senate) and "Corporate and Auditing Accountability, Responsibility, and Transparency Act" (in the House) and more commonly called Sarbanes–Oxley, Sarbox or SOX, is a United States federal law that set new or expanded requirements for all U.S. public company boards, management and public accounting firms. There are also a number of provisions of the Act that also apply to privately held companies; for example, the willful destruction of evidence to impede a Federal investigation. The bill, which contains eleven sections, was enacted as a reaction to a number of major corporate and accounting scandals, including Enron and WorldCom. The sections of the bill cover responsibilities of a public corporation's board of directors, adds criminal penalties for certain misconduct, and required the Securities and Exchange Commission to create regulations to define how public corporations are to comply with the law.
Industry Standards
Payment Card Industry Data Security Standard (PCI DSS) - The Payment Card Industry Data Security Standard (PCI DSS) is a widely accepted set of policies and procedures intended to optimize the security of credit, debit and cash card transactions and protect cardholders against misuse of their personal information. The PCI DSS was created jointly in 2004 by four major credit-card companies: Visa, MasterCard, Discover and American Express.
Service Organization Control (SOC) 2 - SOC 2 is an auditing procedure that ensures your service providers securely manage your data to protect the interests of your organization and the privacy of its clients. For security-conscious businesses, SOC 2 compliance is a minimal requirement when considering a SaaS provider. The SOC 2 report focuses on a business's non-financial reporting controls as they relate to security, availability, processing integrity, confidentiality, and privacy of a system, as opposed to SOC 1/SSAE 16 which is focused on the financial reporting controls.
GDPR (European Union)- When the General Data Protection Regulation (GDPR) goes into effect on May 25, 2018, all companies doing business with individuals in the European Union must comply with the law's far-reaching data privacy provisions.
Data Center Standard
SAS 70 - The Statement on Auditing Standard No. 70 was the original audit to measure a data center's financial reporting and recordkeeping controls.
SSAE 16 - The Statement on Standards for Attestation Engagements No. 16 replaced SAS 70 in June 2011. A SSAE 16 audit measures the controls relevant to financial reporting.
SOC 1 - The first of three new Service Organization Controls reports developed by the AICPA, this report measures the controls of a data center as relevant to financial reporting. It is essentially the same as a SSAE 16 audit.
SOC 2 - This report and audit is completely different from the previous. SOC 2 measures controls specifically related to IT and data center service providers. The five controls are security, availability, processing integrity (ensuring system accuracy, completion and authorization), confidentiality and privacy. There are two types:

Type 1 – A data center's system and suitability of its design of controls, as reported by the company.
Type 2 – Includes everything in Type 1, with the addition of verification of an auditor's opinion on the operating effectiveness of the controls.

SOC 3- This report includes the auditor's opinion of SOC 2 components with an additional seal of approval to be used on websites and other documents. The report is less detailed and technical than a SOC 2 report.
EU-U.S. Privacy Shield - What is the EU-U.S. Privacy Shield? Privacy Shield replaces Safe Harbor as the new law maintaining the privacy and integrity of personal data. Different from HIPAA, PCI and SOX compliance requirements, Privacy Shield was developed by the U.S. Department of Commerce along with the European Commission on Data Protection.
Architecture Tools
IBM System Architect modelling tool
Notes:
Architecture Framework
| Framework | Description |
| --- | --- |
| Open Group Architecture Framework Version 9 (TOGAF 9) | This framework is provided with the product. |
| Zachman Framework | This framework is provided with the product. |
| Department of Defense Architecture Framework Version 2.0 (DoDAF 2.0) | This framework from the U.S. federal government requires a DoDAF license. |
| Department of Defense Architecture Framework Version 1.5 (DoDAF 1.5) | The product supports both the standard version and the Activity Based Method (ABM) version of DoDAF 1.5. |
| Ministry of Defence Architecture Framework Version 1.2 (MODAF 1.2) | This framework from the UK federal government requires a MODAF license. |
| NATO Architecture Framework Version 3.0 (NAF 3.0) | This framework requires a NAF license. |
| Integrated Architecture Framework (IAF) | This framework from Capgemini requires an additional license and installation. |
| Federal Enterprise Architecture (FEA) reference models | These models require an FEA license. |
| Supply Chain Operations Reference (SCOR) reference models | These reference models require an additional license and the installation of an encyclopedia. |
| Telemanagement (TM) Forum reference models | These reference models include both Enhanced Telecom Operations Map (eTOM) models and New  |
Compliance, Documents Mgmt, Project Mgmt
Independently verified Compliance:
ISO27001
ISO27018
SOC 1,2,3 Type 2
CSA STAR 1
Idustry-Specific Compliance:
PCI DSS Level 1
HIPAA BAA
FERPA
CDSA
Not Sure:
SOX
FFIEC, CAT
NERC CIP
NIST SP 800-37 and 800-53
Tools:
CompliantPro is a robust, extremely flexible, web-based compliance software system for proactively managing compliance to a variety of regulations and standards. The software provides the core functionality to manage processes for communicating, monitoring and documenting your diverse compliance activities.
https://www.sciforma.com/ - Program and Portfolio Management
OpenText
Upland Eclipse PPM: Eclipse PPM is one of the better online project management solutions to help you achieve strategic alignment across multiple projects.
Audit
SSAE 16
SOC 2
ISO 27001
FedRAMP

The Federal Risk and Authorization Management Program, or FedRAMP, is a program by which the U.S. federal government determines whether cloud products and services are secure enough to be used by federal agencies.Strictly speaking, FedRAMP is a risk management program. It was created to support the federal Cloud First policy, which was rolled out in 2011 and aimed to rationalize the federal government's sprawling, fragmented IT infrastructure by moving much of it to the cloud. The FedRAMP program seeks to make it clear how FISMA's requirements apply to cloud services.

FISMA

Federal Information Security Management Act (2002) assigns responsibilities to various agencies to ensure the security of data in the federal government. The act requires program officials, and the head of each agency, to conduct annual reviews of information security programs, with the intent of keeping risks at or below specified acceptable levels in a cost-effective, timely and efficient manner. The National Institute of Standards and Technology ( NIST ) outlines nine steps toward compliance with FISMA:

Categorize the information to be protected.
Select minimum baseline controls.
Refine controls using a risk assessment procedure.
Document the controls in the system security plan.
Implement security controls in appropriate information systems.
Assess the effectiveness of the security controls once they have been implemented.
Determine agency-level risk to the mission or business case.
Authorize the information system for processing.
Monitor the security controls on a continuous basis.

NIST SP 800-53A

The nature of the control objectives i.e. 

operations, 
financial reporting, 
compliance

The organizational breadth of the company i.e., 

enterprise level, 
business unit level, 
activity / process level

The five components of effective internal control i.e. 

Control Environment, 
Risk Assessment, 
Control Activities, 
Information and Communication and Monitoring
Investigations
Risk Frameworks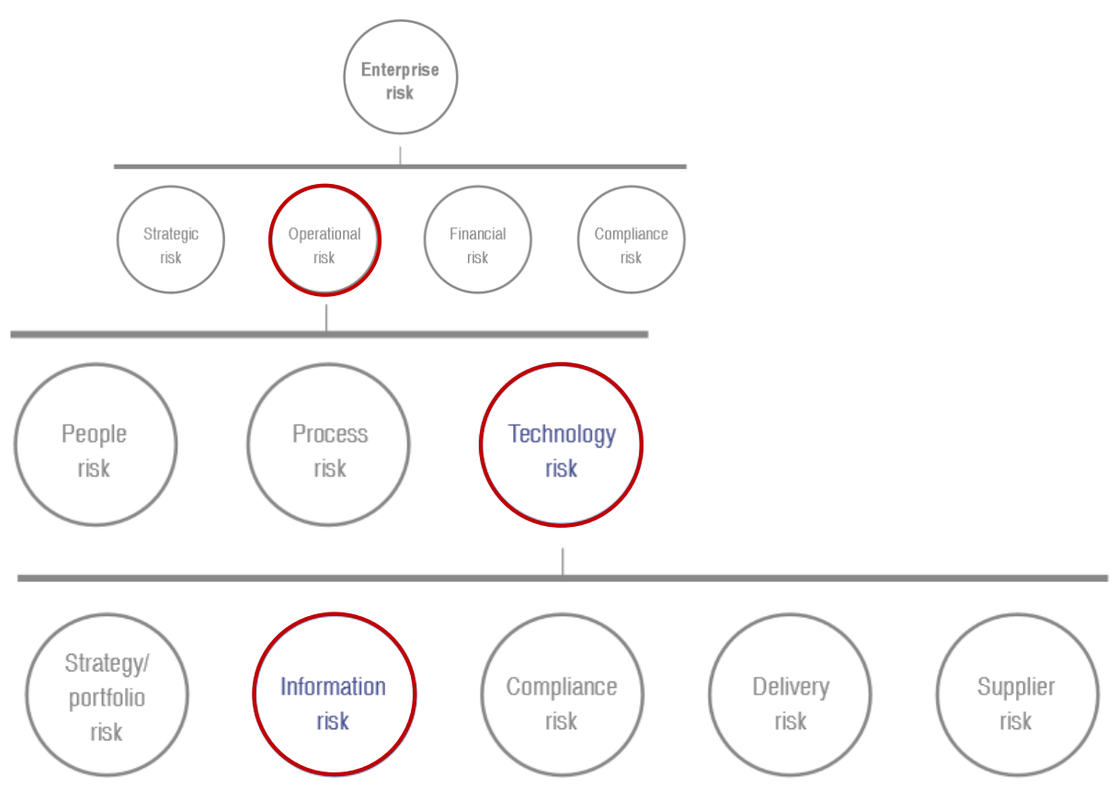 Enterprise Risk to Operation Risk to Technology Risk to Information Risk
FAIR
NIST RMF
OCTAVE
TARA
TRA (Threat and Risk Assessment)
Harmonized TRA (HTRA) Methodology (Threat and Risk Assessment Tool)
Identify Assets
Identify Threats
Identify Vulnerabilities
Calculate Residual Risks
Monitor and Report
Information Risk Assessment Methodology 2 (IRAM2)
IRAM2 Components Review
Scoping
Develop a profile of the environment
Develop the scope for the assessment
Business Impact Assessment
Identify the information assets
Assess business impact
Threat Profiling
Populate the threat landscape
Profile threats
Produce a prioritized threat landscape
Scope and map threat events
Identify and map assets impacted to threat events
Vulnerability Assessment
Identify vulnerabilities and related controls
Assess effectiveness of identified controls
Determine the control strength for each combination of threat event and component
Risk Evaluation
Derive the likelihood of success
Derive the residual likelihood
Determine the residual business impact rating
Derive the residual risk rating
Risk Treatment
Evaluate each risk against the risk appetite
Create a risk treatment plan
Execute the risk treatment plan and validate results
Incident Responding
CyberSecurity Assessment Tools