Application Development
Application Vulnerabilities and Test
Windows System/Appication Test Software
Security Awareness
Security Assessment Methodology
Digital Forensic Investigation Tools
There are some other related posts in this blog:
Application Development
SDLC : SDLC is Software Development Life Cycle. It is the process by which Information Systems or Software are developed and designed. Like every other process, SDLCs have various methods to complete the steps. One of the oldest ways to go about is the Waterfall method. The first known usage of Waterfall was in 1956 by Herbert D. Benington at Symposium on advanced programming methods for digital computers. One of the major competitions that Waterfall method faces is the Agile Method. The waterfall method goes through the phases of Conception, Initiation, Analysis, Design, Construction, Testing, Production/Implementation, and Maintenance one after the other like the motion of a waterfall. The team cannot move on to a phase till the previous phase is complete. The positive thing about this method, even though it is time consuming, is that if the bugs are found early on it saves a lot of time and money later. For instance if a bug is found in the conception or initiation phase then it can be corrected before going to the design phase rather than it being discovered while the software is getting designed and then has to be scrapped completely. This method requires intensive documentation in each phase and in that way the process is not dependent on any individual on the team. If a component of the team needs to be replaced, the new person can understand where the project is currently, easily.
The Agile method on the other hand is an iterative and incremental approach to software development. In this form of SDLC small modules of the final products are released for the users to review and then are changed accordingly. As per the name, this environment is flexible and can be changed according to the circumstances. Here different developers work on their own task simultaneously and then combine their work in the end. The focus is on delivering a working software rather than documentation. Since it's iterative, that means it works in cycles. New things are discovered during each iteration and then can be improved upon or fixed before the next cycle begins. Communication, rather than documentation, is used and as such it is faster to work in an Agile environment. Agile methods seem best for developmental and non-sequential projects; as such they are ineffectual in some types of projects and is not taken seriously by a lot of companies.


REST based Services/Architecture VS RESTFUL Services/Architecture
To differentiate or compare these 2, you should know what is REST. REST (REpresentational State Transfer) is basically an architectural style of development having some principles...
It should be stateless
It should access all the resources from the server using only URI
It does not have inbuilt encryption
It does not have session
It uses one and only one protocol that is HTTP
For performing CRUD operations, it should use HTTP verbs such as get, post, put and delete
It should return the result only in the form of JSON or XML, atom, OData etc. (lightweight data )
REST based services follow some of the above principles and not all, whereas RESTFUL means it follows all the above principles.
SonarQube
VeraCode
Fortify SCA and Fortify WebInspect
IBM AppScan
Application Test Methodologies with Tools
Application Testing

Types of Testing

Web Application Testing

Functional and Performance Testing

Cross-browser Testing

Load and stress Testing

Regression and Compliance Testing

User Acceptance Testing

Beta Testing

Exploratory and Smoke Testing

Multilanguage support and compatibility Testing

Desktop Application Testing

UI Testing

Usability Testing

Performance Testing

Compatibility Testing (Software/ Hardware)

Functional Testing

Security Testing

Mobile Application Testing

UI Testing

Rule based Testing

Regression Testing

Functional Testing

Security Testing
Black Box Testing: Black Box Testing technique is used commonly for testing Functional testing, Non-functional testing, and Regression Testing. In black box testing, the strategy used are

Equivalence Class Testing
Boundary Value Testing
Decision Table Testing
State Transition Tables
White Box Testing: White box testing is typically used for testing the software code to check Internal security holes, broken or poorly structured paths, functionality of conditional loops, etc. In white box testing, the strategy used are

Code Coverage analysis
Path Coverage
Gray Box Testing: This testing technique is a combination of both Black Box Testing as well as White box testing. It is carried out in accordance to find Defect based on improper structure or application use.
Static Application Security Testing (SAST) – Big software organizations worldwide are gravitating towards CICD, Agile and DevOps setups. SAST solutions have all the characteristics to blend into these Software Life Cycle's. Code can be scanned fast, vulnerabilities are located accurately and untouched code doesn't have to be re-scanned.
Dynamic Application Security Testing (DAST) – While DAST tools provide risk analysis and assist in the remediation efforts, developers don't really know where exactly the vulnerabilities are located, not do they always now what countermeasures to implement. DAST methodology reporting is less than satisfactory in numerous instances.
Selenium
IBM Rational Robot
RFT (Rational Functional Tester)
Load Runner ( HP Performance Tester)
Apache Jmeter
One Good Practice from Security Compass:
Web Server Scans
- Full TCP /UDP Port Scans
- Web Server Scans
Nikto (www.cirt.net)
Spike Web Proxy (www.immunitiysec.com)
Stealth Scanner (www.nstalker.com) Free/Commercial
- SSL Version (40/56/128 Bit)
- Administrator Port
- Internal IP
- Internal Port
- Internal Server Name
- Load Balancer
Web Application: Background Information on the site
- Identify Technologies used and application architecture
- Mirror site
- Sift through client side code (review comments and client side code)
- Authenticate to the site and browse the site
- Document all the links and pages on the site
Web Applications: Threat Analysis
Web Application: Begin Testing of the Web Application
- Configuration Management (Web Server)
- Backup Files (.bak / .inc/ .gz / .zip)
- Autehntication (ACLS on Files / ACLs on Data / Cookies)
- Session / Cookie Management
- Input Validation (XSS/SQL Injection / Field Overflows / Field Underflow)
- Hiddent Tags / Hidden Cookie variables / Hidden Pages
- File Upload ( File Type / Location of upload)
- Buffer Overflows (ISAPI/Modules)
- Cryptography
- Sensitive Data
Web Application: Search Engine Hacking
- groups.google.com
- yahoo.com
- archive.org
Authentication
Authorization
Session Management
User Management
Cryptography, PII, Critical Data
Data Validation
Data Handling
Error & Exception
Event Logging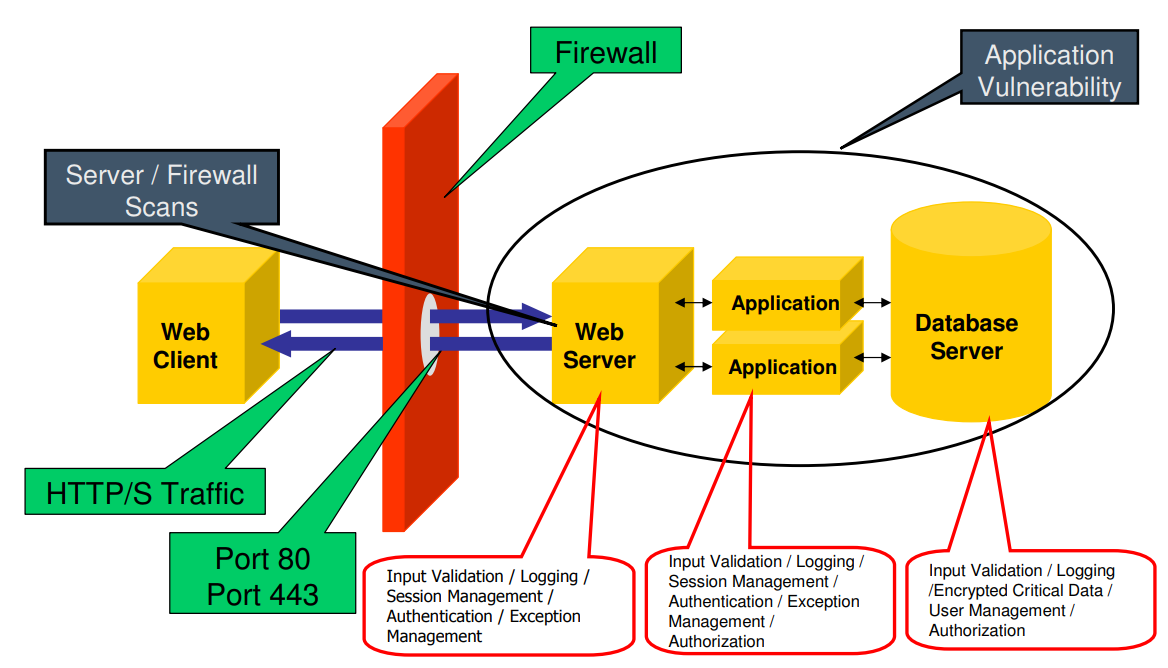 Application Vulnerabilities
WASC TCv2 (WASC Threat Classification v2.0) Web Application Security Consortium Threat Classification

CWE™ (Common Weakness Enumeration) is a community-developed list of common software security weaknesses. It serves as a common language, a measuring stick for software security tools, and as a baseline for weakness identification, mitigation, and prevention efforts.a
Windows System/Appication Test Software
Sandboxie, which lets you run programs independent of the rest of your system. That way they can't infect, access, or otherwise interfere with your Windows installation. It supports 64bits and Win8.
PowerShadow works both pro-actively and protectively to shield you from anything that threatens the life of your computer system. Installation of PowerShadow is like planting an amazing protection mechanism called the Shadow Mode. It is designed to defend you against millions of viruses, spyware and Trojan horse that would love to invade your system.
Security Awareness
Security Education Platform - Wombat, Leader in the Magic Quadrant for Security Awareness Computer-Based Training (CBT).
Security Assessment Methodology
B.A.S.E - SANS.org

Baseline,
Audit & Assess
Secure the environment
Evaluate & Education

Prepare
Categorize
Select
Implement
Assess
Authorize
Monitor
Digital Forensic Investigation Tools