Gartner's Magic Quadrant for Public Cloud Infrastructure Managed Services Providers (2018, 2017)
What are Public Cloud Infrastructure Managed Service Providers?
Public cloud infrastructure as a service (IaaS) delivers compute, storage and network resources in a self-service, highly automated fashion. The leading public cloud IaaS providers also offer platform as a service (PaaS) capabilities and other cloud software infrastructure services as part of an integrated IaaS+PaaS offering
This Gartner magic quadrant report analyzed vendors in the market and states that "a public cloud infrastructure managed service provider (MSP), in the context of this Magic Quadrant, is an MSP that offers managed services and professional services related to infrastructure and platform operations for one or more hyperscale integrated infrastructure-as-a-service (IaaS)+platform-as-a-service (PaaS) providers."
Three Vendors are in Leaders Quadrant:
Accenture
Cloudreach
Rackspace
This is the second consecutive year in which Accenture was recognized as a Leader in the Gartner report.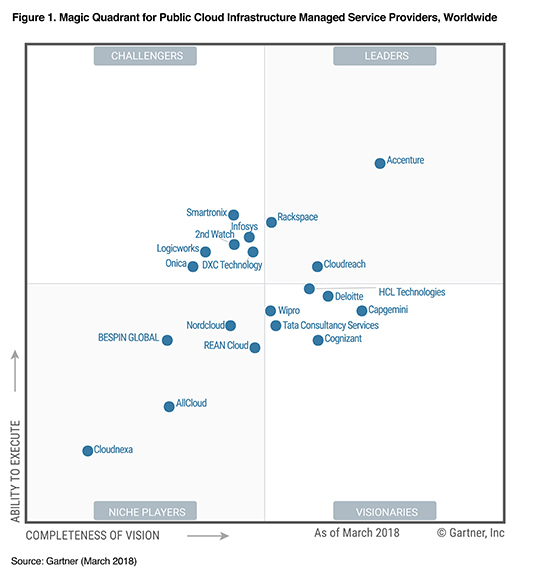 2017
Accenture
Datapipe
Rackspace
Cloudreach
Smartronix
2nd Watch
Logicworks