Dropdown Menu

Wednesday, April 18, 2018
Friday, October 6, 2017
AWS provides a 750 hours free tier on Windows machine. I am always wondering how to install wordpress on it to use this free tier instance . Here is all steps I followed today. Most steps are same as WPMU DEV's post "
Setting Up WordPress Locally for PC/Windows with WampServer
". I do add some of my own experience in the steps.
Basically WampServer = (Apache, PHP, MySQL on Windows). WAMP is the software suite installed on popular Windows operate system, includes Apache, MySQL, PHP and some other tools. It is derived from LAMP which stands for Linux, Apache, MySQL, and PHP. As the name implies, while LAMP is used on Linux servers, WAMP is used on Windows servers.
Note: Microsoft WebPI is another popular way to install wordpress on Windows server. But truly not recommend. I managed to get it working and eventually still find WAMP is better and easier to use.
For Windows: 
WAMP and Wordpress Install on AWS Free Tier Windows 2012 R2
For Ubuntu: 
LAMP and WordPress Installation on Ubuntu
Saturday, September 30, 2017

I have selected Ubuntu as OS platform to install my php, wordpress and mysql. It gave me lots of learning experience on Linux. Here is many steps I recorded during working on my 51sec.org blog site.
For Windows:
WAMP and Wordpress Install on AWS Free Tier Windows 2012 R2
For Ubuntu: 
LAMP and WordPress Installation on Ubuntu
1. Basic Ubuntu Configuration (Not in Cloud)
1.1 Configure Interfaces
Welcome to Ubuntu 15.10 (GNU/Linux 4.2.0-16-generic x86_64)
 * Documentation:  https://help.ubuntu.com/
48 packages can be updated.
37 updates are security updates.
Last login: Sat Feb 13 20:16:03 2016 from 192.168.2.62
[email protected]:~$
cd /etc/network
[email protected]:/etc/network$
sudo vi interfaces
[sudo] password for john: 
# This file describes the network interfaces available on your system
# and how to activate them. For more information, see interfaces(5).
source /etc/network/interfaces.d/*
# The loopback network interface
auto lo
iface lo inet loopback
# The primary network interface -- use DHCP 
auto eth0
iface eth0 inet dhcp
# The secondart network interface -- use static ip address
auto ens160
iface ens160 inet static
address 192.168.2.22
netmask 255.255.255.0
gateway 192.168.2.1
dns-nameserver 8.8.8.8
~
~
[email protected]:/etc/network$
sudo /etc/init.d/networking restart
Wednesday, September 27, 2017
Amazon Web Services (AWS) is a secure
cloud
services platform, offering compute power, database storage, content delivery and other functionality to help businesses scale and grow. Millions of
u
sers are currently leveraging AWS cloud
products
and
solutions
to build sophisticated applications with increased flexibility, scalability and reliability.
In this post, I recorded all steps regarding how to launch a free tier AWS instance and how to use a client to access the instance.
1. Launch a EC2 Instance
1.1 Access Amazon AWS site :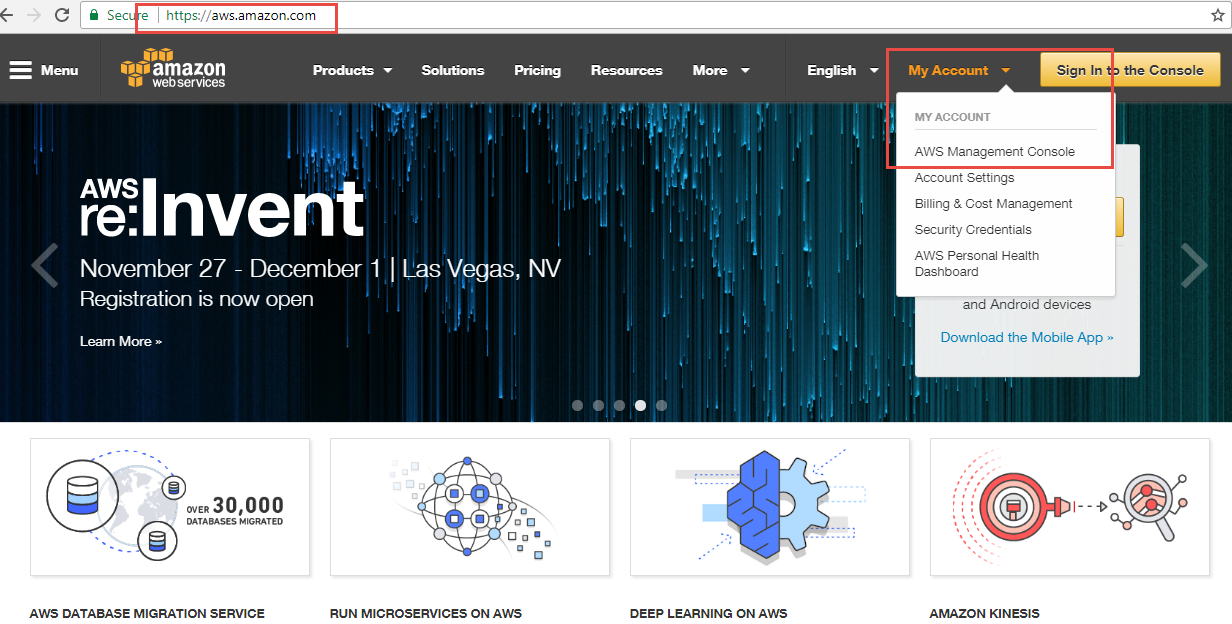 Sunday, September 24, 2017
I was looking for some online tools to create impressive AWS diagram for my learning process. Most of online diagram websites provide certain free usages.
In my
My Top Internet / Network Tools
post, I mentioned following online diagram drawing websites which I used before:
Here are some good AWS diagram websites I found useful to me.
It is quite impressive when I started to make my first diagram. Limit grid size is a big pain when you try to draw a detail diagram for your AWS VPC, but it is good enough to draw a three tier application deployment. 
Cloudcraft allows registered user to create AWS diagrams for free using all available components with some feature limited. Upgrade to Cloudcraft Pro for import of live AWS data and unlimited size diagrams. It can automatically calculate the cost for your design, and  also provides live connection to your AWS account. The smart components feature makes it much easier to connect other components you lay on the grid than any other websites I tried. Love it. So far, I think it is best site for me .
Monthly $49 can get your subscription to pro level to unlock those restrictions.
3.  Building a scalable AWS architecture (ELB, ASG, RDS)
Understand NAT Instance vs NAT Gateway
create your security groups
create your EC2 keypari
create your RDS SQL instance
Bake your amazon machine image
create your launch configuration
create your auto-scaling group
create your elastic load balancer
test, break, fix, celebrate
Understand NAT
You may need NAT for VPN. Two types NAT methods: NAT Instance and NAT Gateway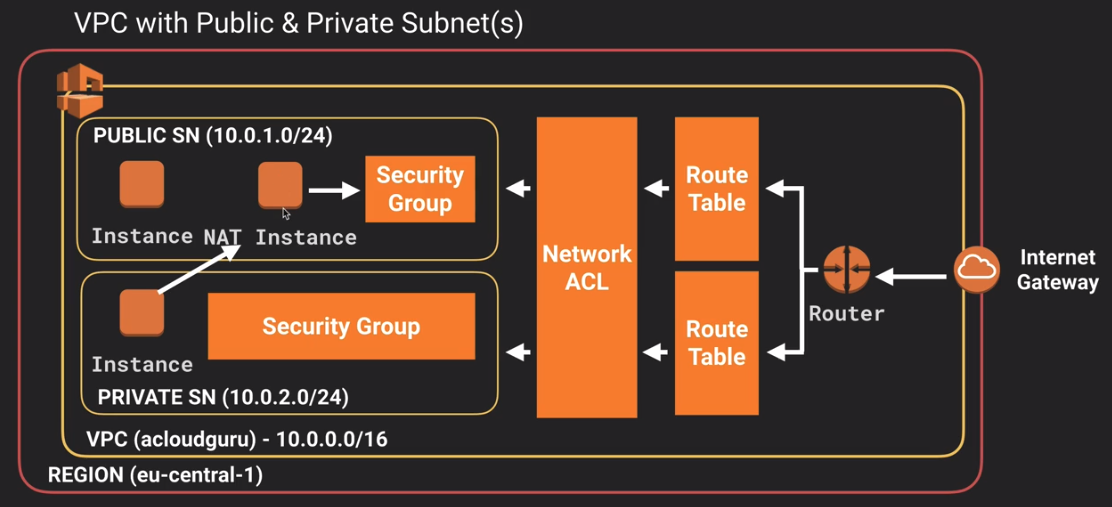 VPC: NAT Instance
Wednesday, September 13, 2017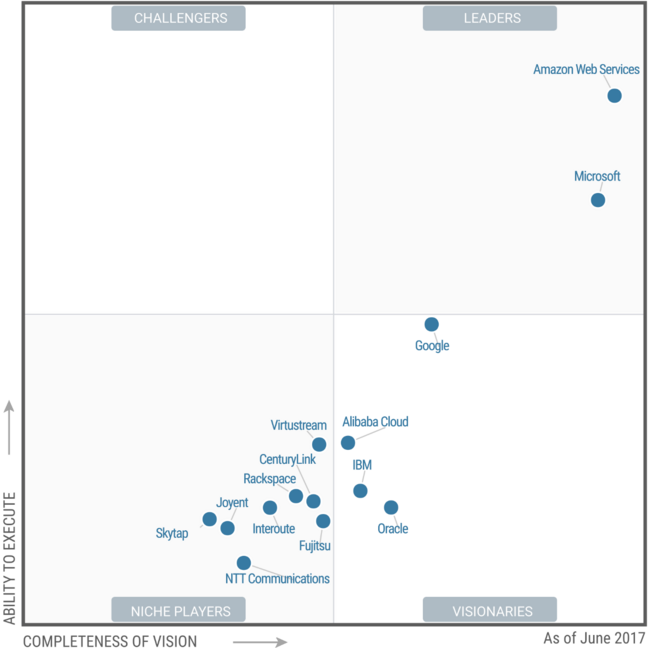 Gartner's Magic Quadrant
for Cloud Infrastructure as a Service,
Worldwide June 2017.

 
According to Gartner, Amazon Web Services (AWS) has became as the undisputed leading cloud provider in the world. AWS is rated "the most mature, enterprise-ready provider, with the deepest capabilities for governing a large number of users and resources." Gartner says it can satisfy the cool kids who want cloud-native and old hands who want to shift traditional workloads to the cloud, in part because independent software vendors have clambered aboard in large numbers.
AWS has a good documentation
Quick Start deployment guide
 which present a good example to build a VPC environment with the following features:
Up to four Availability Zones for high availability and disaster recovery. Availability Zones are geographically distributed within a region and spaced for best insulation and stability in the event of a natural disaster. AWS recommends maximizing your use of Availability Zones to isolate a data center outage. 
Separate subnets for unique routing requirements. AWS recommends using public subnets for external-facing resources and private subnets for internal resources. For each Availability Zone, this Quick Start provisions one public subnet and one private subnet by default.
Additional layer of security. AWS recommends using network access control lists (ACLs) as firewalls to control inbound and outbound traffic at the subnet level. This Quick Start provides an option to create a network ACL protected subnet in each Availability Zone. These network ACLs provide individual controls that you can customize as a second layer of defense.
Independent routing tables configured for every private subnet to control the flow of traffic within and outside the Amazon VPC. The public subnets share a single routing table, because they all use the same Internet gateway as the sole route to communicate with the Internet.
Highly available NAT gateways, where supported, instead of NAT instances. NAT gateways offer major advantages in terms of deployment, availability, and maintenance.
Spare capacity for additional subnets, to support your environment as it grows or changes over time.
Friday, August 11, 2017
In the context of this Magic Quadrant, cloud compute IaaS (hereafter referred to simply as "cloud IaaS" or "IaaS") is defined as a standardized, highly automated offering, where compute resources, complemented by storage and networking capabilities, are owned by a service provider and offered to the customer on demand. The resources are scalable and elastic in near real time, and metered by use. Self-service interfaces are exposed directly to the customer, including a web-based UI and an API. The resources may be single-tenant or multitenant, and hosted by the service provider or on-premises in the customer's data center. Thus, this Magic Quadrant covers both public and private cloud IaaS offerings.
2017
On Jun 15 2017, Gartner has published  Magic Quadrant for Cloud Infrastructure as a Service that – no surprising  – has Amazon Web Services and Microsoft alone in the leader's quadrant, same as last few years.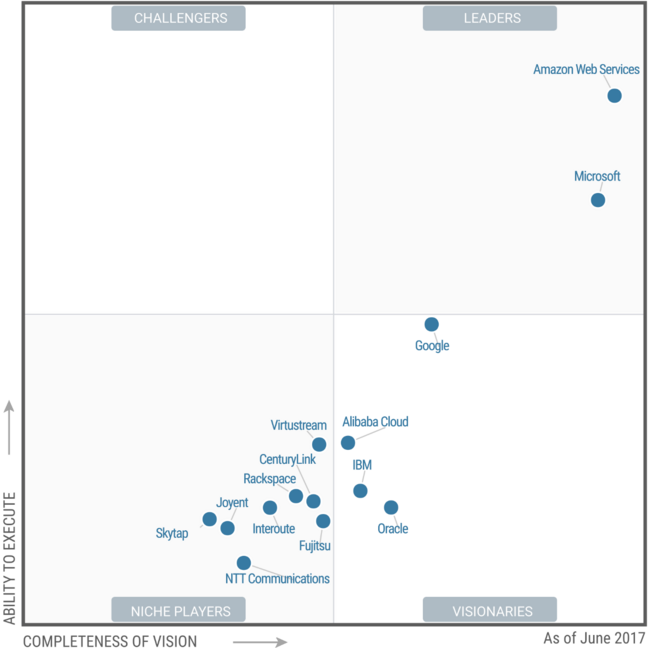 Reference:
Magic Quadrant for Cloud Infrastructure as a Service, Worldwide