Dropdown Menu

Wednesday, January 30, 2019
IT operations are the processes and services administered by an organization's information technology department. As such, IT operations include administrative processes and support for hardware and software, for both internal and external clients.
IT OPS Knowledge Points:
Nosql Database
Redis
Mongodb
Web Servers
Apache
Nginx
Tomcat
Network Monitoring Tools
Nagios
Zabbix
Cacti
MRTG
Proxy Servers
Squid
Nginx
Cache Servers
Squid
Varnish
Redis
Memcached
Log Monitoring Servers
Awstats
Logwatch
Graphite
SARG
Webalizer
Splunk
Kafka
Storm
Scrible
Logstach
ELK
Load Balancing Servers
Haproxy
Lvs
Nginx
Cluster Heartbeat Communication
Keepalived
Heartbeat
Mail Servers
Sendmail
Postfix
File Servers
Vsftp
DNS servers
Bind
Firewalls
Iptables
File System
DRBD
ISCSI
SAN
NAS
FastDFS
Lustre
Hadoop
Mogilfs
NFS
Rational DB
Mysql
Oracle
DHCP Servers
DHCP
Auto Batch Installation Servers
Kickstart
Cobbler
Sniffing Software
Wireshark
Tcpdump
Joy
Auto Operation management Software
Puppet
Ansible
Chef
Saltstack
Func
Fabric
Pexpect
CMDB
Virtualization / Cloud Comuting
Kvm
Xen
Docker
Openstacker
Security
Failzban
AIDE
Portsentry
IDS/IPS
WAF
Lynis
Tripwire
Nmap
RKHunter
Chkrootkit
Session Maintenance
Screen
Tmux
Pressure Testing
AB
Webbench
Iozone
Httperf
Sysbench
Iperf
Speedtest_cli
Sunday, December 30, 2018
Here are some collections from Internet about Threat Hunting tools, information and resources.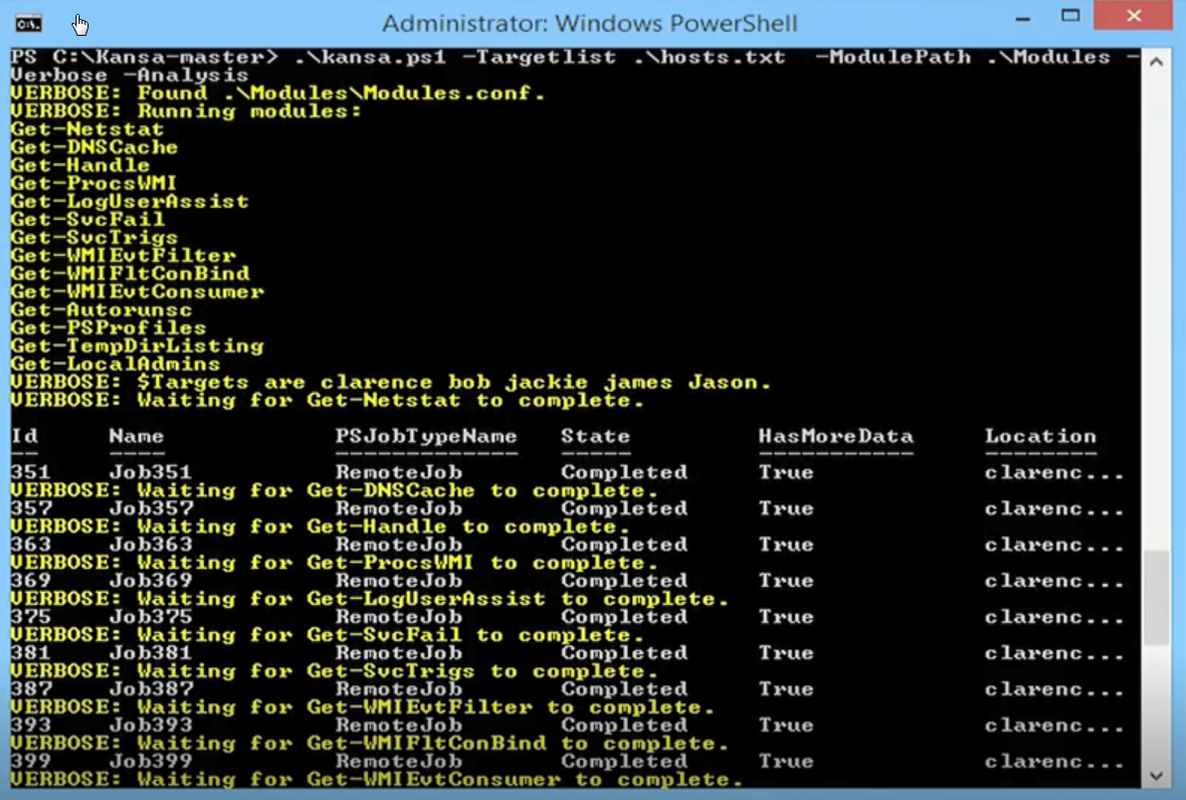 1. Kansa
GitHub - Davehull/Kansa
http://trustedsignal.blogspot.com/search/label/Kansa
http://www.powershellmagazine.com/2014/07/18/kansa-a-powershell-based-incident-response-framework/
Tuesday, December 4, 2018
When cyber security professionals talking about related frameworks, it always comes to two which is ISO and NIST. There are lots of confusions  between them and also between Frameworks and Security architecture methodology. Here is some discussion for those topics I collected from online which I believe at certain points, it clarified some of my confusions.
======================================================================
A Cyber Security Framework is a risk-based compilation of guidelines designed to help organizations assess current capabilities and draft a prioritized road map toward improved cyber security practices. (From Arnab Chattopadhaya 's 
Enterprise Security Architecture
)
Well Known Cyber Security Frameworks
• Sherwood Applied Business Security Architecture (SABSA)
• ISO/IEC 27001 & 27002 (formerly ISO 17799)
• ISO/IEC 31000
• NIST SP 800-53: Security and Privacy Controls for Federal Information Systems and Organizations
• NIST SP 800-39: Risk Management Framework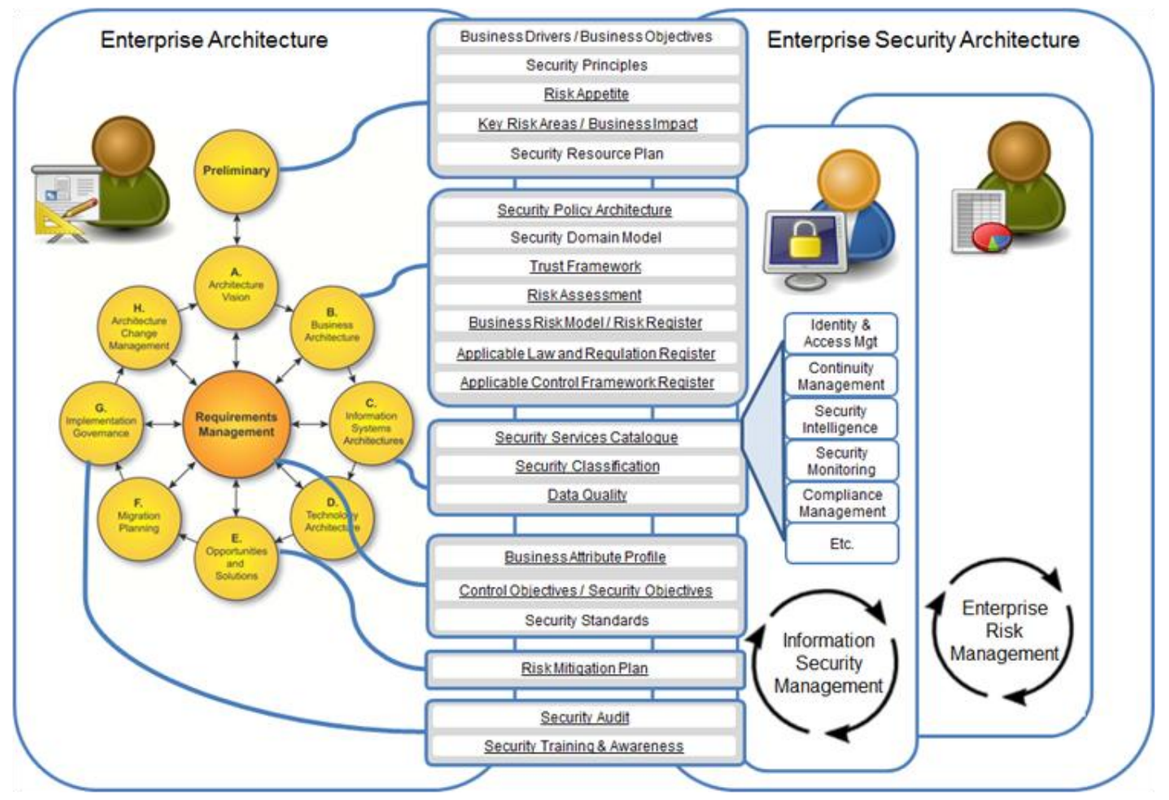 Essential security and risk concepts and their position in the TOGAF ADM (Source: TOGAF Security Guide)
What is DevOps:
DevOps
is the combination of
cultural philosophies
,
practices
, and
tools
that increases an organization's ability to deliver applications and services at high velocity:
evolving and improving products at a faster pace
than organizations using traditional software development and infrastructure management processes. This speed enables organizations to better serve their customers and compete more effectively in the market. (from AWS)
Prior to 2010,
Structured Development methodologies
Clent-server
Waterfall Model
Now,
Moved from structured development methodologies to object-oriented paradigm
Moved from client-server to service-oriented architecture
Moved from the waterfall model to agile methods
Continuous Integration and Continuous Delivery (CI/CD) relies on the automation of routine work.
Agile and DevOps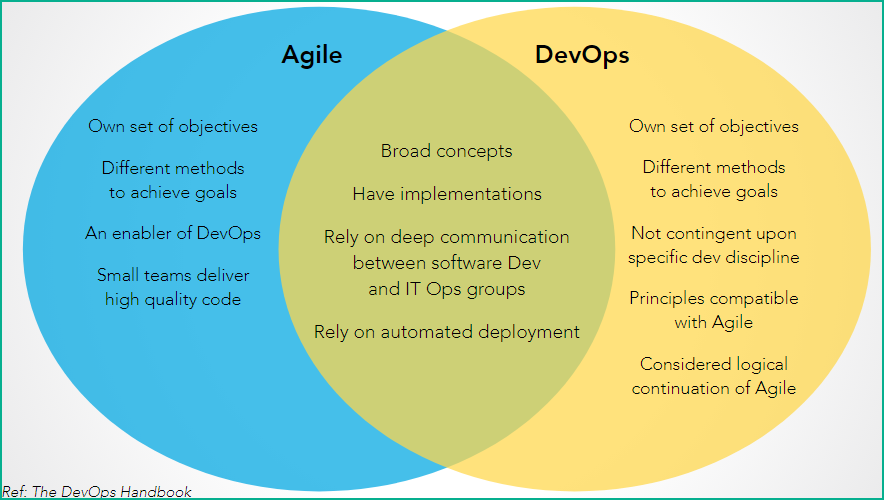 Sunday, December 2, 2018
Enterprise Security Architecture (ESA) is a relatively new concept to most business & IT stakeholders. However it is gaining an increase in adoption due to the need by the CISO's of enterprises to strategically address information security debt and meet the increasing burden of Privacy related compliance. This post is going to collect some useful online resources which started to explore a creative method to build a mature enterprise security architecture.
IT vs Information Security vs Cyber Security vs Business Continuity vs Risk Management
Thursday, November 29, 2018
A Brief History of Enterprise Architecture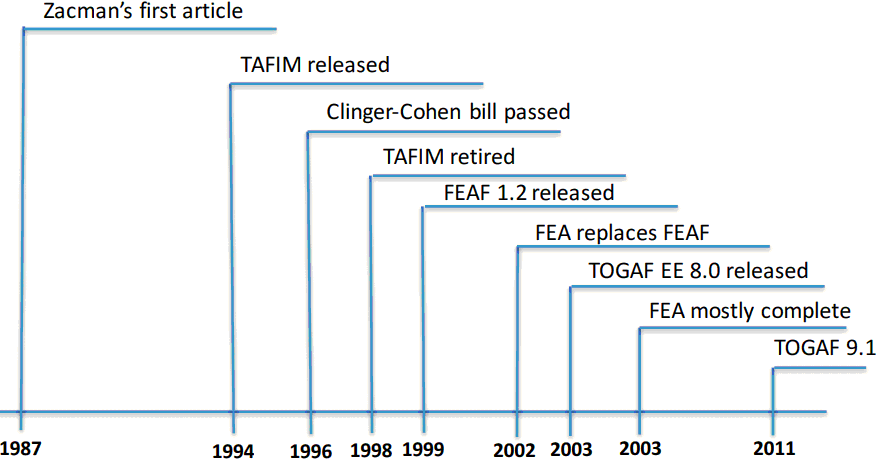 Tuesday, October 23, 2018
This post is to collect Internet resources regarding threat modeling. There are some other similar posts regarding Threat Intelligence and Threat hunting. Search my blog you will find more.
Threat Modeling Methodologies for IT Purposes
Conceptually a threat modeling practice flows from a methodology. Numerous threat modeling methodologies are available for implementation. Based on volume of published online content, the four methodologies discussed below are the most well known.



Saturday, May 26, 2018
Cyber Security Mind Map Examples
:
Mind Mup2 - https://drive.mindmup.com/
A CISO (Chief Information Security Officer) has a complex role within a company. They have a wide array of tasks to perform, that involves many differing parts, which the average individual is not always aware of.
CISO Mind Map is an overview of responsibilities and ever expanding role of the CISO.  This Security Leadership poster made by SANS shows exactly the matters a CISO needs to mind when creating a world class IT Security team. It also highlights the essential features necessary of a Security Operations Centre (SOC).