Thycotic Secret Server Discovery
 What is discovery in Thycotic Secret Server:
Discovery finds secrets in an IT environment and imports them into secret server.
Secret server is most effective when it covers all privileged accounts
Discovery helps to eliminate,

Unknown privileged accounts

Backdoor Access
Gaps in security

Auditors want automated processes to reduce human mistakes
Out-of-box:
AD (using LDAPs and WMI)

Domain Computers' local accounts
Domain accounts
Domain accounts running 

Window Services
Scheduled Tasks
IIS Application Pools
IIS Application Pool Recycles

Unix/Linux Local accounts

Machines - finds out Operating System first then local accounts
Non-Daemon Users - most other user accounts
All users - built-in accounts
Scanning accounts

need to be able to connect over ssh
read /etc/passwd
minimum permissions for taking over account during import sudoer permissions
sudoer permissions on /etc/passwd

Define host range

IP address
Host name
IP address range

Hypervisor ESXi accounts

vSphere PowerCLI 5.5 release 2 - API installed on your Secret server
PowerShell 3 or greater on your secret server
Scanning accounts

Shell Access
Query VRM policy permission

Define host range

IP address
Host name
IP address range

Amazon Web services

AWS accounts

AWS access key
AWS console account

one secret using Amazon IAM secret template
Amazon IAM access key permissions

Iam:ListUsers
Iam:GetLoginProfile
Iam:ListAccessKeys

Google Cloud platform

Discovery and password changing of IAM service account users
Discovery of instances associated to the projects
Heartbeat and password changing of GCP service accounts
Token rotation for GCP service accounts
Custom (Extensible)
Anything - leverages PowerShell scripts
SQL accounts & DB links
Networking equipment
Embedded password
Accounts Discovery Flow Charts
AD accounts discovery flow chart: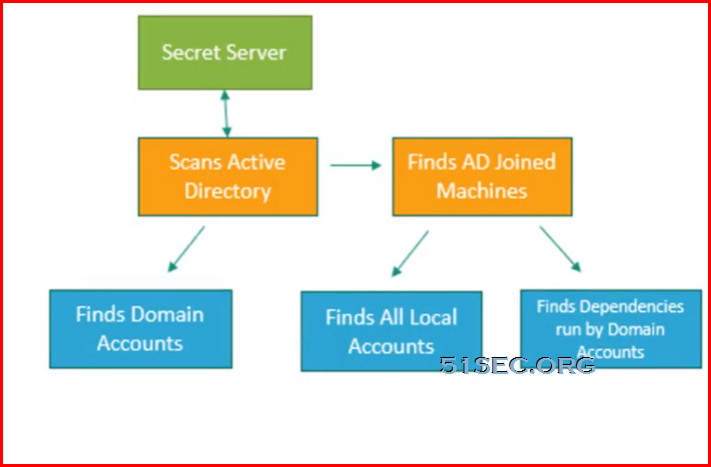 Unix/Linux accounts discovery flow chart: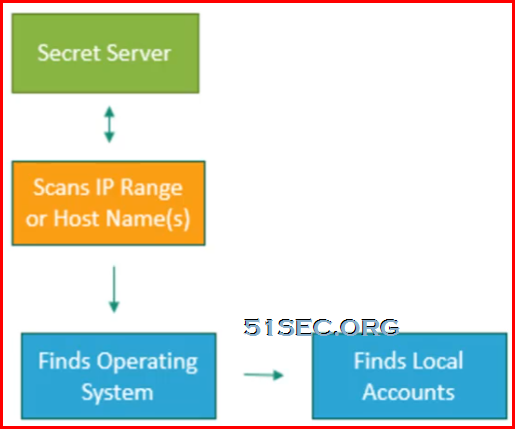 Vmware ESX/ESXi accounts discovery flow chart: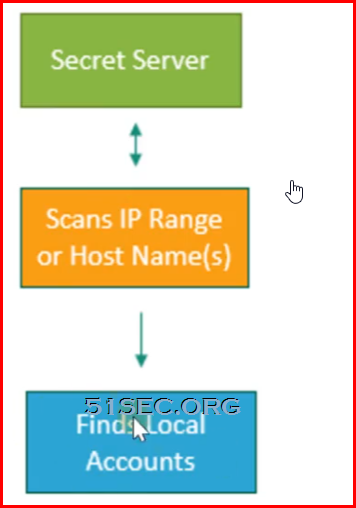 AWS accounts discovery flow chart: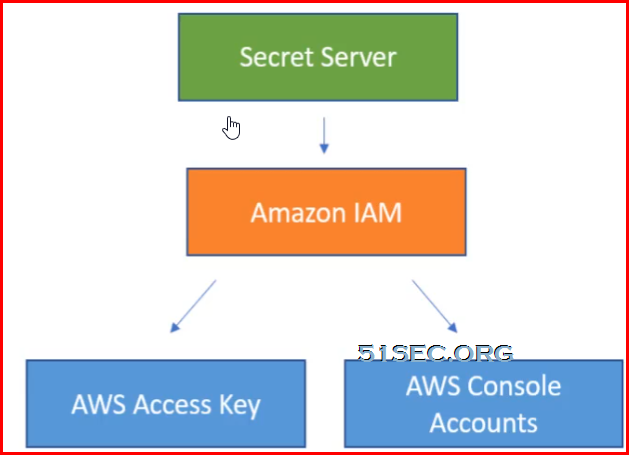 GCP accounts discovery flow chart: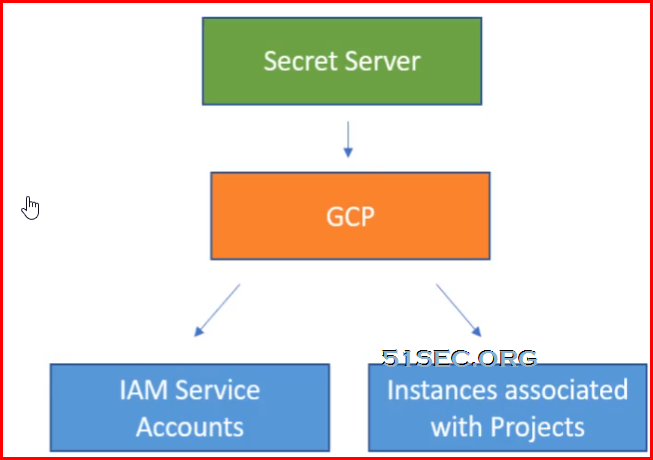 1
Enable Globally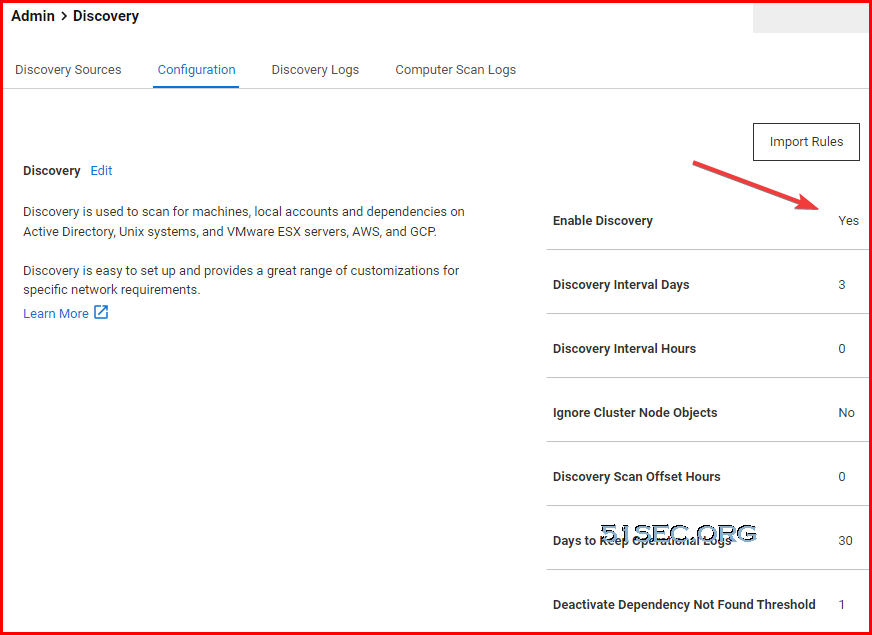 2
Configure Settings
3
Add Discovery Sources and Rules
Active Directory Discovery Setting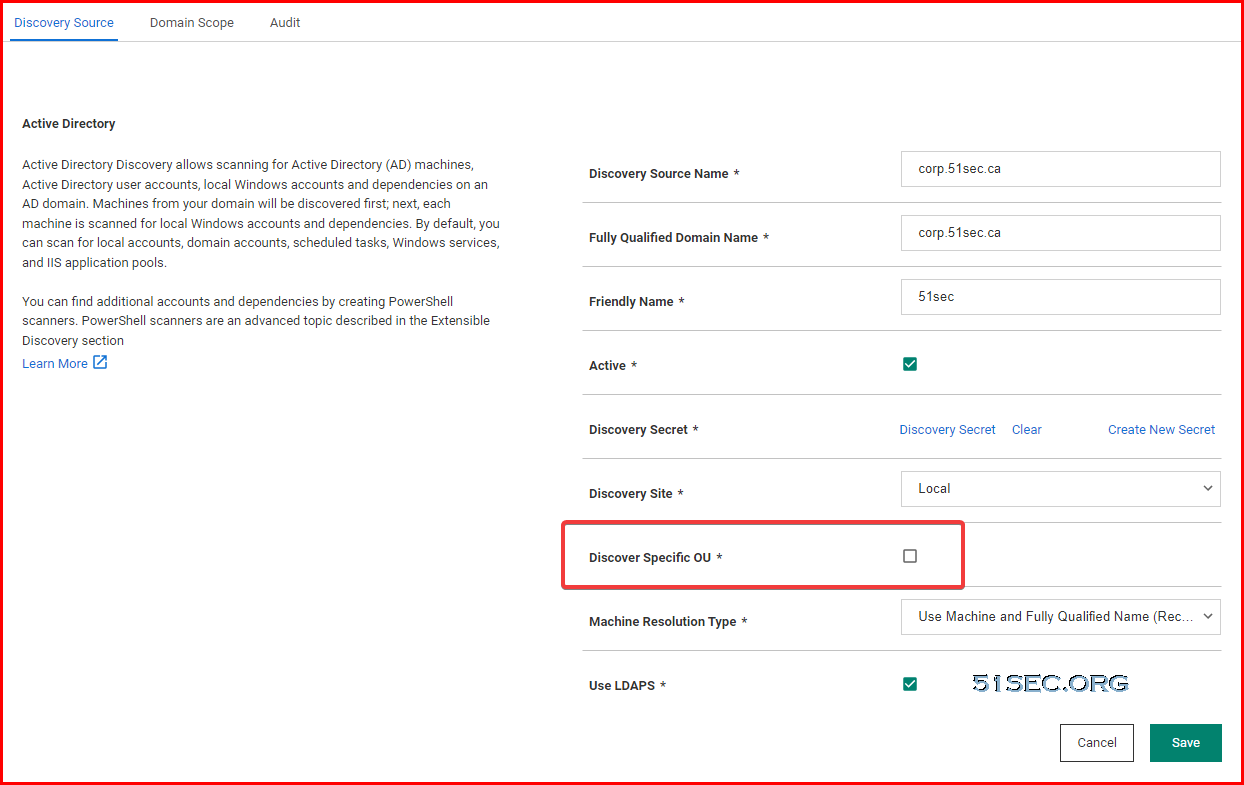 Note: If Discover Specific OU enabled, you will need to define Domain Scope in the next tab. The domain scope is for OU, not CN. Once a parent OU added in, all child OUs are included into discovery as well.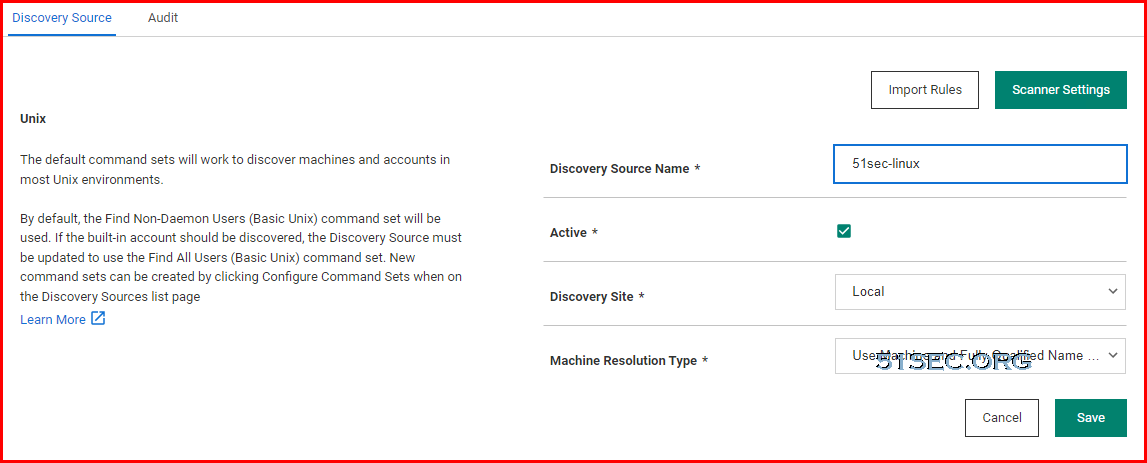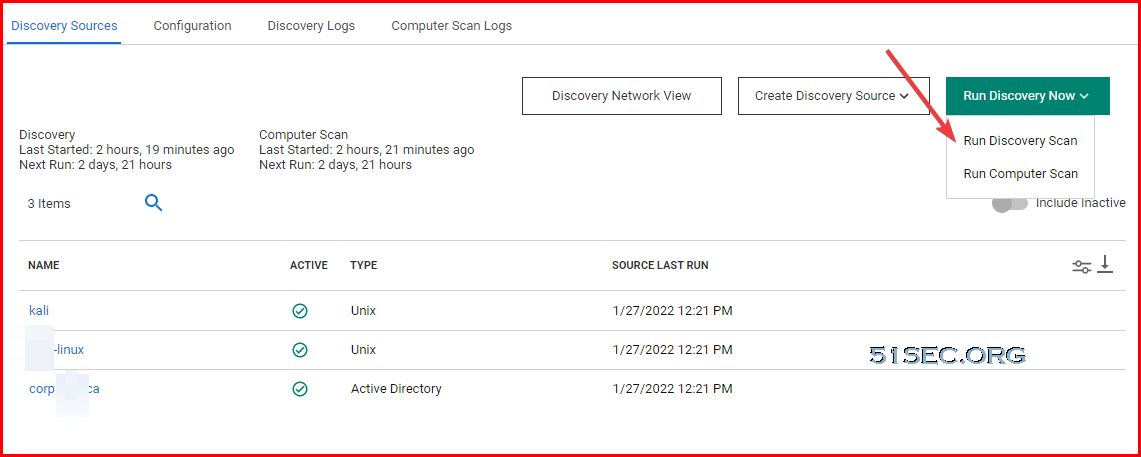 5
Import Accounts
Set up a scheduled task to test service account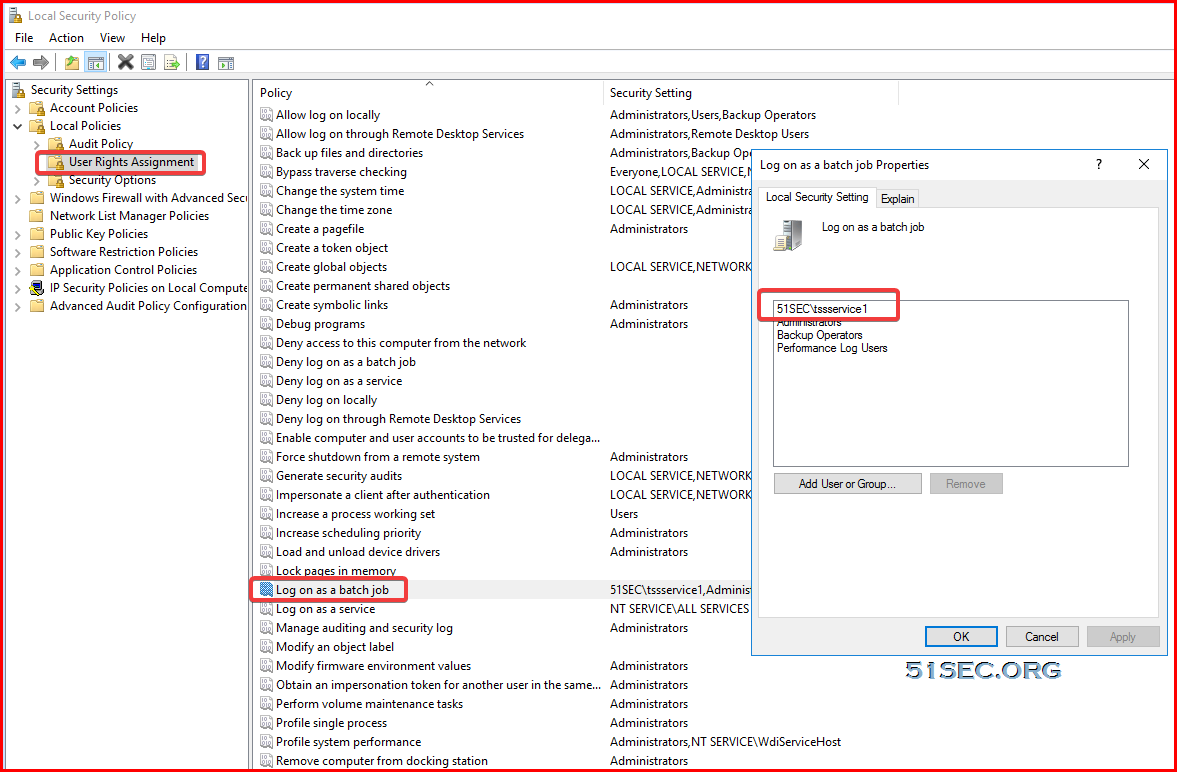 Troubleshooting - Discovery
Identify the issue(s):
Discovery logs: admin -> Discovery -> Discovery logs and Computer Scan logs
System logs: admin -> system logs
Distributed Engine Logs: C:\Program Files -> Thycotic Software Ltd -> Distributed Engine -> Log -> SSDE file -> at the bottom of the file
Find the solution(s):
Review the account running engine service
Confirm the account has the appropriate permissions
Compare this account to the account be used for discovery
Note:
Scanning Account's Permission:
Make the account e able to log on as service
Grant the account read, write, and execute privileges to the entire distributed engine install directory and sub-folders
Add the account to the administrators group on each computer that will be scanned
same account as you run Distributed Engine Service. 
Example: Error!
Exception: Retrieving the COM class factory for remote component with CLISID from <machine> failed due to error: 80070005
Show a report to see all unmanaged accounts:
/*  Domain accounts discovered in Secret Server that are not managed in Secret Server  */

/*  To filter the results to only a specific OU, uncomment out the
AND ou.Path = 'SpecificOU\SpecificOU'
line and change SpecificOU\SpecificOU to the folder path for the OU to filter  */

/*  To include a specific OU and its sub-OUs, uncomment out the AND ou.Path line
and edit it to
AND ou.Path CONTAINS 'SpecificOU\SpecificOU'
and change SpecificOU\SpecificOU to the folder path for the OU to filter  */

SELECT
    isnull(Domain,ds.Name) AS 'Discovery Source / Domain'
    ,ou.Path
    ,ca.AccountName AS 'Account Name'
FROM tbComputerAccount ca
    INNER JOIN tbDiscoverySource ds on ca.DiscoverySourceId = ds.DiscoverySourceId
    LEFT JOIN tbDomain d ON d.DomainId = ds.DomainId
    LEFT JOIN tbOrganizationUnit ou ON ou.OrganizationUnitId = ca.OrganizationUnitId
    LEFT JOIN tbSecret s ON s.ComputerAccountId = ca.ComputerAccountId
WHERE ds.Active = 1
    AND ((d.EnableDiscovery is null) OR (d.EnableDiscovery = 1))
    AND s.ComputerAccountId IS NULL
    AND ca.OrganizationUnitId IS NOT NULL
/*    AND ou.Path = 'SpecificOU\SpecificOU'  */
GROUP BY isnull(Domain,ds.Name), ou.Path, ca.AccountName
    HAVING COUNT(ca.AccountName) > 0
ORDER BY
    1,2,3 ASC




SELECT
    tc.DiscoverySourceId AS 'DiscoverySourceId',
    tds.Name AS 'DiscoverySourceName',
    tca.AccountName AS 'Account',
    tc.ComputerName AS 'Host Name',
    CONVERT(VARCHAR(20),tc.LastPolledDate,107) AS 'Last Scanned'
FROM
        tbComputer tc
        JOIN tbComputerAccount tca
        ON tc.ComputerId=tca.ComputerId
    JOIN tbDiscoverySource tds
    on tc.DiscoverySourceId=tds.DiscoverySourceId
    LEFT JOIN tbSecret ts
    ON ts.ComputerAccountId = tca.ComputerAccountId
    WHERE ts.ComputerAccountId IS NULL
    ORDER BY tca.AccountName asc