IBM Guardium Troubleshooting Tips and Tricks
Topology
Inspection Engine Status is Fail

YouTube Video:
Reference:
https://www.ibm.com/support/pages/what-do-if-guardium-inspection-engine-status-fail
Changing Report Parameters
Run Time Parameters


For these queries the QUERY_FROM_DATE and QUERY_TO_DATE can be changed to limit to show just the recent 3 minutes data for example


click the pencil top right in v9 or wrench in v10.
Amend parameters


Any of the Fields can be used to set a condition as normal and the report can the be re-saved and re-run - for example to restrict for a specific ServerIP ...


click the edit report icon at the top left in v10.
Add a condition - for example
Add Reports into Dashboard to Check Logged Data
Log in to your
Collector
WebUI, add following reports into your Dashboard:
1. Full SQL Count
2. Full SQL
3. Server Accessed
4. Open Sessions
5. Session count
Change GIM Client Configuration's Guardium IP
Sometimes, you might want to point your GIM Client to different collector or aggregator. The following steps will show you how to change that.
1. Stop GIM service from GIM client server
2. Go to the path C:\Program Files (x86)\Guardium\Guardium Installation Manager\GIM\Current\
3. Edit the file "conf"
4. search GIM_URL and change ip from 172.23.1.29 (collector) to 172.23.1.28 (central manager)
5. Save the changes
6. Start GIM service
7. Verify from Guardium Central Manager
Based on
How to move a GIM client to point to another appliance (GIM Server)?
, there are two other ways to do it:
1. From Guardium Web GUI, Manage - module Installation - Set up Client
choose the GIM client and GIM bundle then change parameter GIM_URL to your new GIM appliance ip, install it now to get it updated.
2. From Guardium Client command line.
Remove inactive GIM client connection
If your GIM client has pointed to different Guardium Aggregator / collector / central manager, you might received following notification about "The GIM process is not running on following database server". In this case, you might want to delete this GIM connection by click "reset connection" in the Set up by Client page.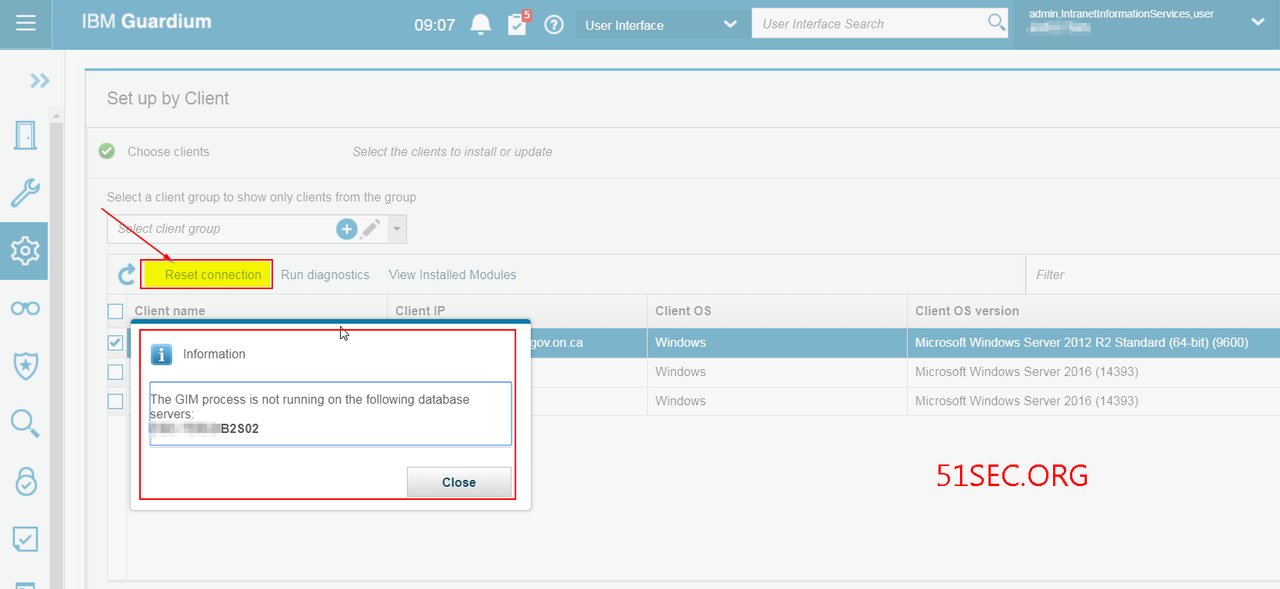 VA Report View Issue - Disable Data Level Security Filtering
VA task has been scheduled to run and log shows it was completed successfully, but the report received shows empty with a information "Data level security or event filtering is enabled. Therefore all of the results have been filtered"
There is also a checkbox for "Include indirect records".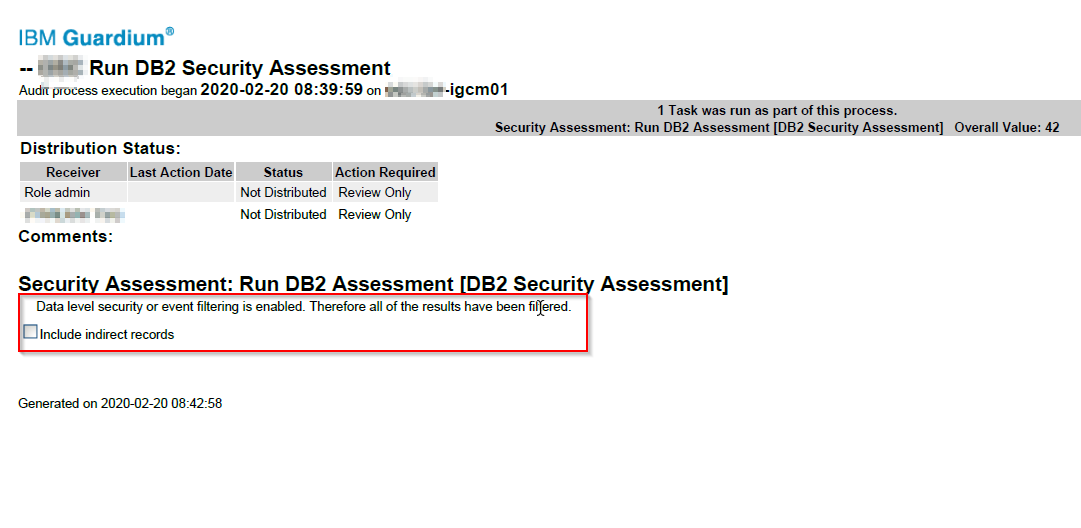 It is quite clear, Data level security was enabled for some reasons, such as segregate duties. It can be turned off at Setup > Tools and Views > Global Profile.