Install Microsoft Office Desktop Version Including Visio Using Free Third Party Tool - Office Tool Plus
This post is to show you a way to install Microsoft Office Suite with other components such as Visio pro, using a free third party tool - Office Tool Plus. 
Free Web Microsoft 365 to Use Office
Microsoft has made free to use Word, Excel, PowerPoint and more for free with Office on the web with a Microsoft 365 account.
Office Online
is entirely cloud-based and works on most browsers. As long as you have the internet, you have access to familiar MS Office tools like Word, Excel, and PowerPoint, as well as Sway, OneNote, Outlook, Calendar, OneDrive, Forms, People, and Skype. Simply create an account and log in from anywhere to collaborate with anyone.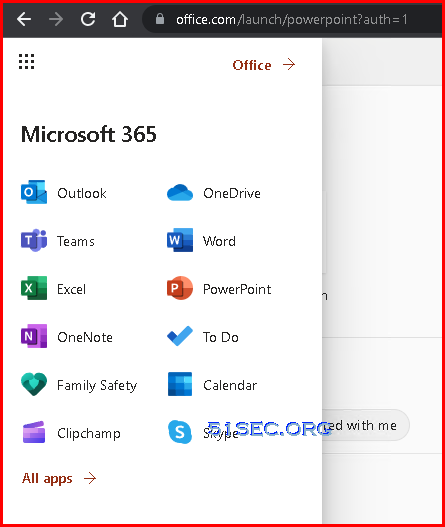 Microsoft Office Web vs Desktop Apps: Missing Features
First and foremost, we are going to discuss the basic differences between the web version of Microsoft Office and the desktop apps. As it's self-explanatory, the 
Web version is online only
 meaning you can access Microsoft Office on the web only when you are connected to the internet. It does not support offline editing or viewing.
Next, you can't directly select and edit an Office document that is 
available on your local disk
. Instead, you will have to first upload the document on OneDrive, and then only you can edit an Office file on the web. It sure becomes a hassle when you are dealing with large Office documents — be it Word, PowerPoint, or Excel.
Apart from that, the web version is primarily free to use, and you can get almost all the things done through a browser.  At the same time, no free tier for desktop version but t
he desktop apps bring a full set of features, that lacks on the web version of Microsoft Office.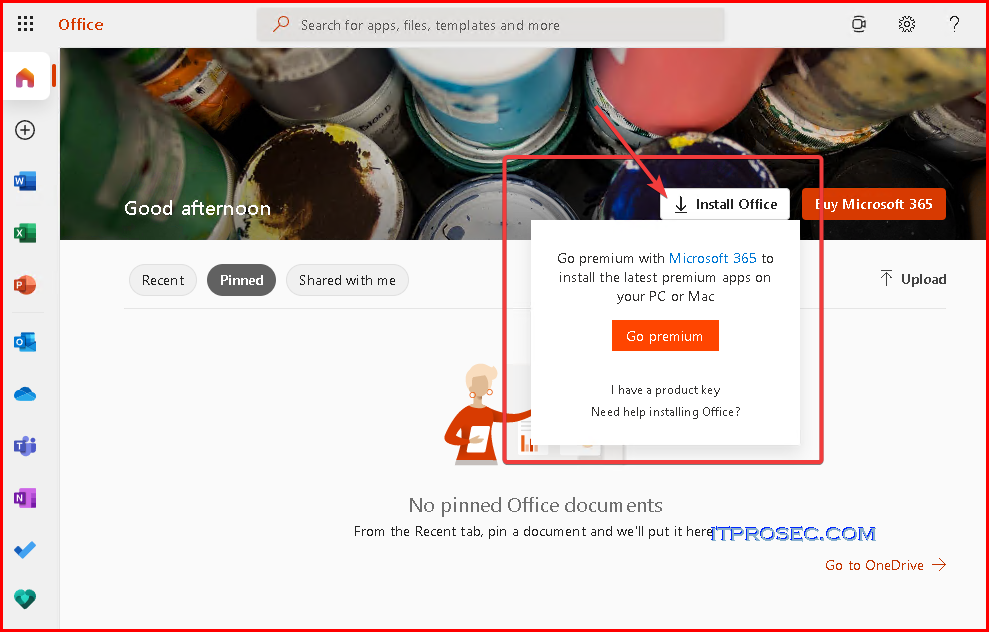 In case, you don't want to buy a one-time license then you can get a monthly subscription plan called Microsoft 365 (formerly Office 365). The paid plan 
starts at $8 per month
 and it offers you the offline desktop version of Microsoft Office as well. Along with that, you get many perks on the web version of MS Office too.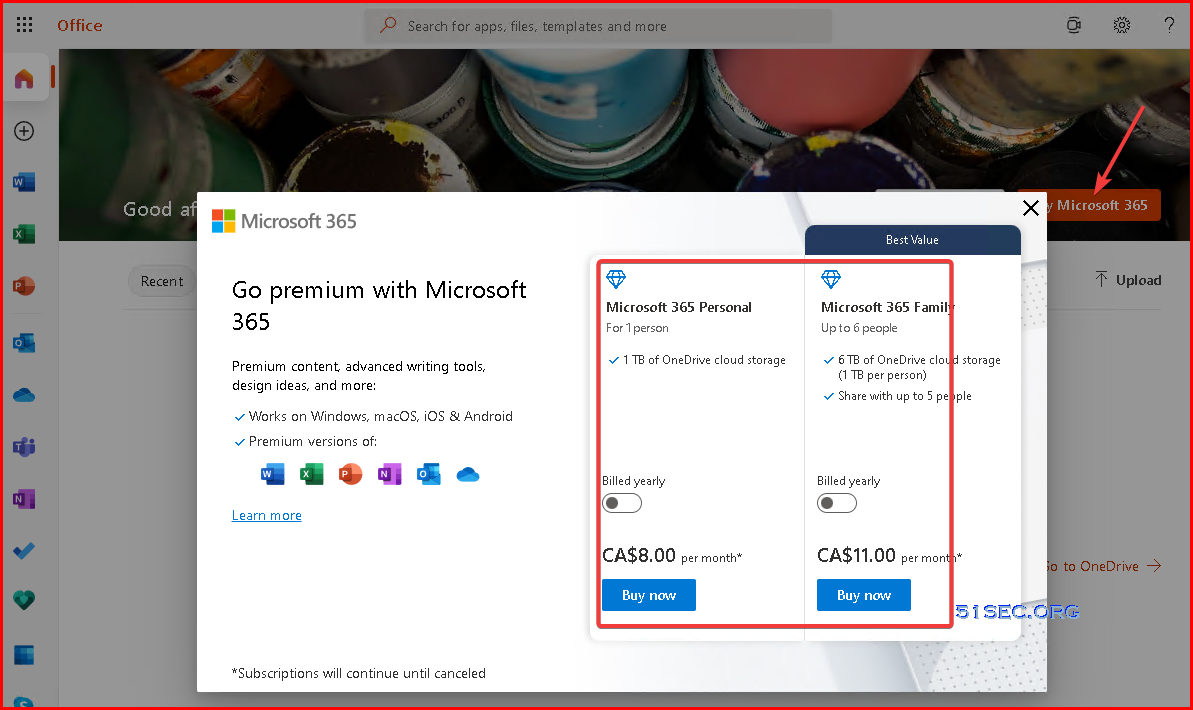 Now that we have got the basics, let's now move to the missing features. Here, we will primarily talk about Microsoft Word, Excel, and PowerPoint. We will list out all the
features that are missing on the web
version of Microsoft Office.
Having said that, bear in mind, just because a tool is not available on the web version does not mean that it can't render an Office document made with those tools. Basically, you will be able to view those content on the web, but can't edit them.
1. Microsoft Word
On the web version of Microsoft Word, you can't add captions, citations and bibliography.
There is no support for advanced collaboration such as Track Changes, merge, compare and combine documents.
No support for advanced page layout tools and advanced printing tools.
Unlike the desktop version of MS Office, you don't have a full set of Reference and Researcher tools.
You can't insert videos inside a word document
Watermarks are not supported on the web version of Microsoft Word.
2. Microsoft Excel
On the web version of Microsoft Excel, you don't have access to advanced formula tools.
You can't create PivotCharts, but can view them on the web. Bear in mind, you can now create, edit and view PivotTables.
There is not much option for advanced formatting and you don't get smart formatting recommendations on the web.
You can't create external data connections or make external references.
On the web version of Excel, you can't create advanced analysis views such as Power View, Power Pivot and Slicers.
No support for advanced time filtering like Timeline Slicer.
3. Microsoft PowerPoint
On the web version of Microsoft PowerPoint, you don't have a larger selection of animations. It only has eight transitions and 37 animations. For custom animations, you will have to use the desktop app of MS PowerPoint.
 You can't play embedded videos in PowerPoint on the web.
No rich formatting for texts and shapes. While you can apply styles and add shadow effects, the features are somewhat limited. You don't have gradients, eyedropper, styles and effects.
Design tool and ink support is not available on the web version
No support for headers and footers.
No integration with Excel for charts.
For a full list of differences between the web version of Microsoft Office in comparison to desktop apps, head over to Microsoft's Web Service Description.
Office Tool Plus
Office Tool Plus is made based on  Office deployment tools  and  OSPP  , and can easily deploy Office. Its built-in Thunderbolt engine can help you download Office faster. Of course, you can also use various built-in gadgets or functions of Office Tool Plus to quickly, Easily activate and manage Office!
The following products are supported:
Microsoft 365
Office 2016 - 2021
Visio Online Plan 2 & 2016 - 2021
Project Online Desktop Client & 2016 - 2021
Personal homepage: https://officetool.plus/
Official website: https://otp.landian.vip/
Help document: https://otp.landian.vip/help/
GitHub:https://github.com/YerongAI/Office-Tool
Office Tool Plus is a completely legal application. All of its core components are from Microsoft's official website. Based on Office Deployment Tool and OSPP, we provide users with the functions of downloading, installing and activating Office. Whether the Office is genuine or not, Depends on how the user activates Office. Office Tool Plus itself only provides the download and installation of the original version of Office.
Office supports account, key, and KMS activation. The first two are basically genuine authorizations (the keys found online are separate). The genuine and non-genuine versions of KMS are somewhat misunderstood by people, so here is a supplementary explanation.
Generally, KMS servers authorized by Microsoft can only be deployed on Windows Server, and are usually only deployed on the intranet and not open to the outside world.
At present, the KMS server based on vlmcs is basically open on the Internet. It is non-genuine and has no activation restrictions. Anyone can access it.
1 Download latest version. 9.0.3.7, date: 08/10/2022
https://otp.landian.vip/en-us/download.html 
File Size is about 70MB.
2 Unzip it to a folder
Double click "Office Tool Plus.exe" file from extracted folder "Office Tool".
3 Click Yes to accept Software License Terms and Microsoft Service Agreement to launch main interface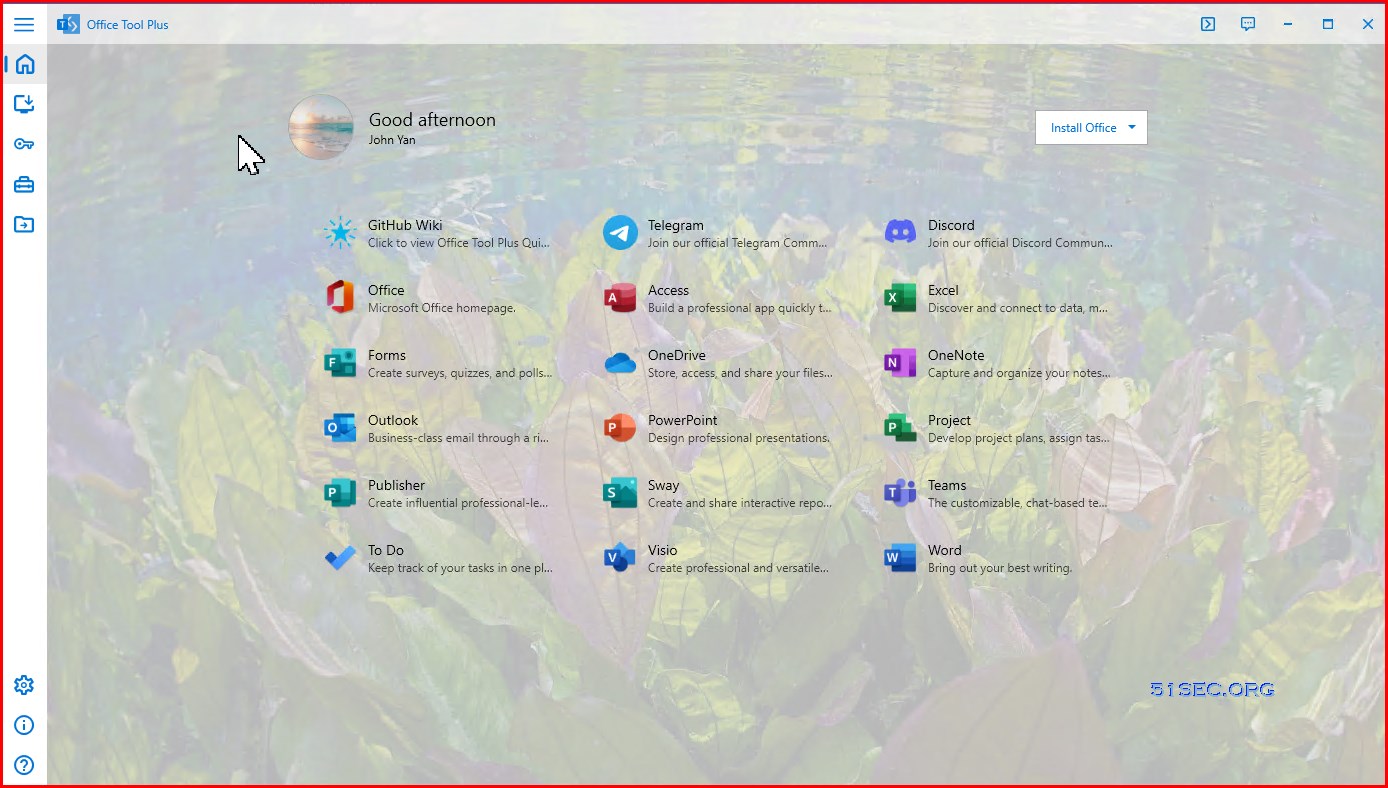 4 click Install Office button  and from drop down menu to select "Office LTSC Professional Plus 2021 - Volume License"

5 Choose Yes to install after download.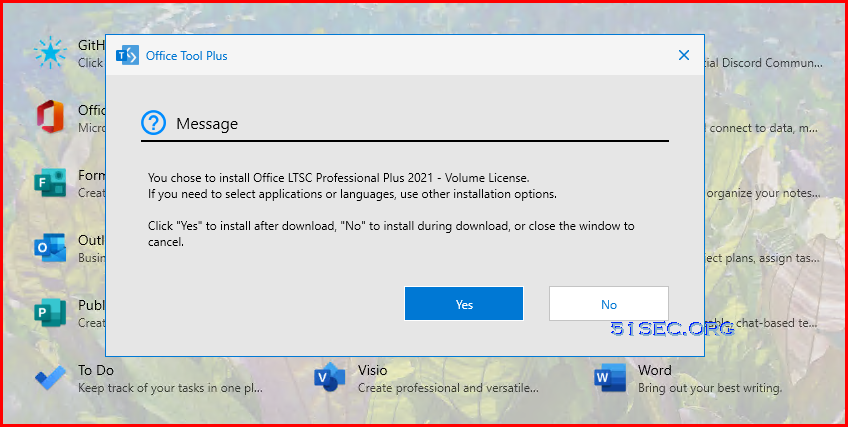 6 Deploy it with default settings. You might need to change channel based on the product you select to install.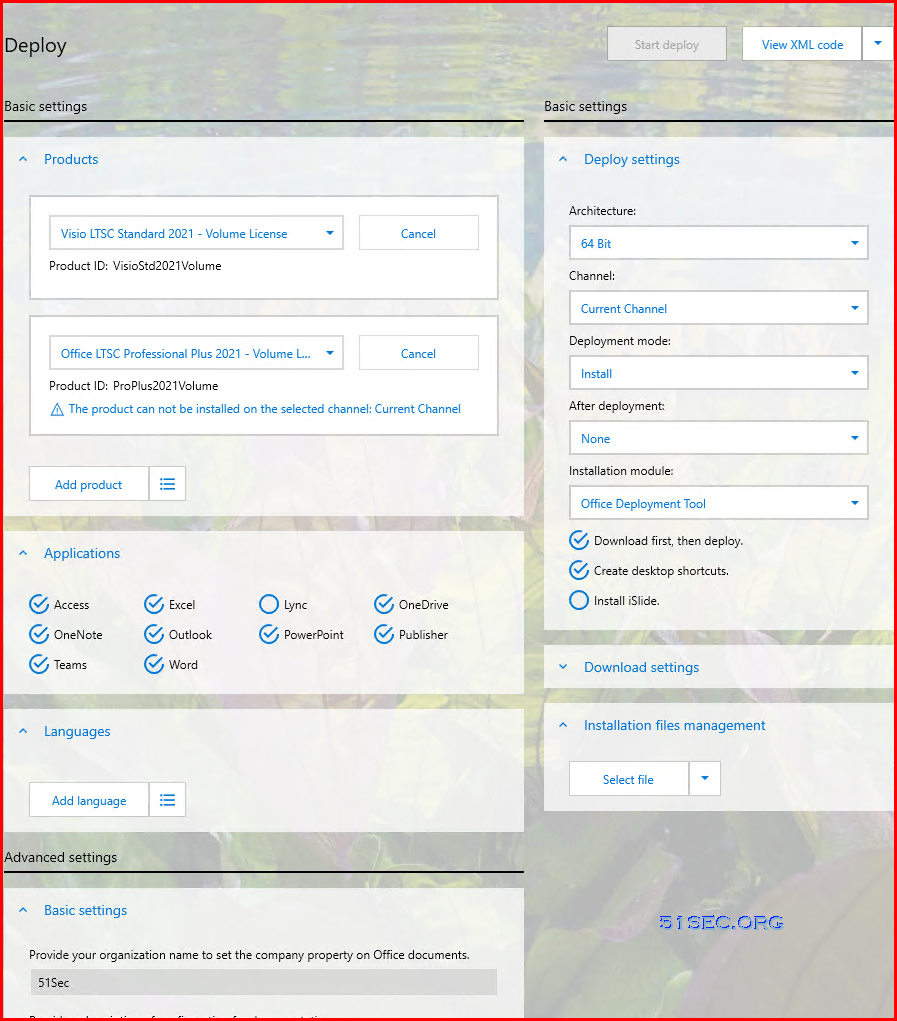 With this latest version, it will need MAK to activate products. 
Earlier version, you will find out KMS for activation as an option .  Here is a link for version 8.3.9.0 : https://github.com/YerongAI/Office-Tool/releases/tag/v8.3.9.0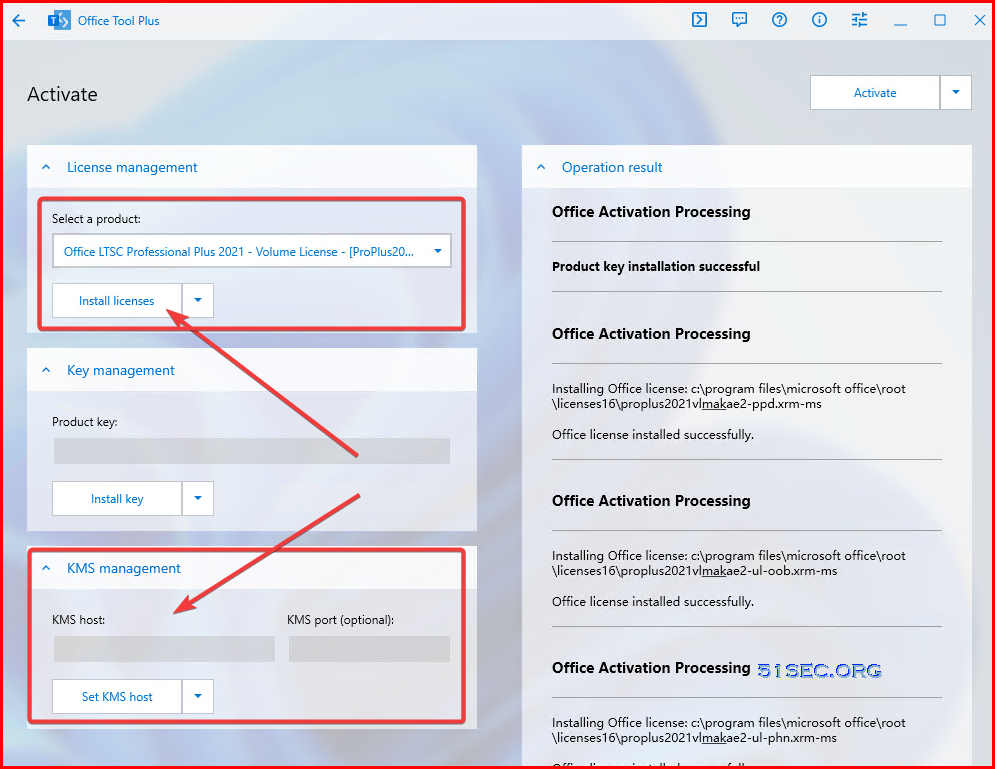 You will need to create your own KMS server with your own key to activate 
Here are some Microsoft KMS related documentation:
Videos
For original video, you can find out it from following link which was backed up by another site.