CyberArk P-Cloud (CyberArk Privilege Cloud) Introduction and Deployment Topology
CyberArk Privilege Cloud is a SaaS solution that enables organizations to securely store, rotate and isolate credentials (for both human and non-human users), monitor sessions, and deliver scalable risk reduction to the business.
Privilege Cloud protects, controls, and monitors privileged access across on-premises, cloud, and hybrid infrastructures.  
Privilege Cloud = Vault + PVWA + Connector


Privilege Cloud architecture
A Diagram from CyberArk Doc Website:
Note: https://docs.cyberark.com/Product-Doc/OnlineHelp/PrivCloud-SS/Latest/en/Content/Privilege%20Cloud/PrivCloud-detailed-architecture.htm
Another diagram from CyberArk: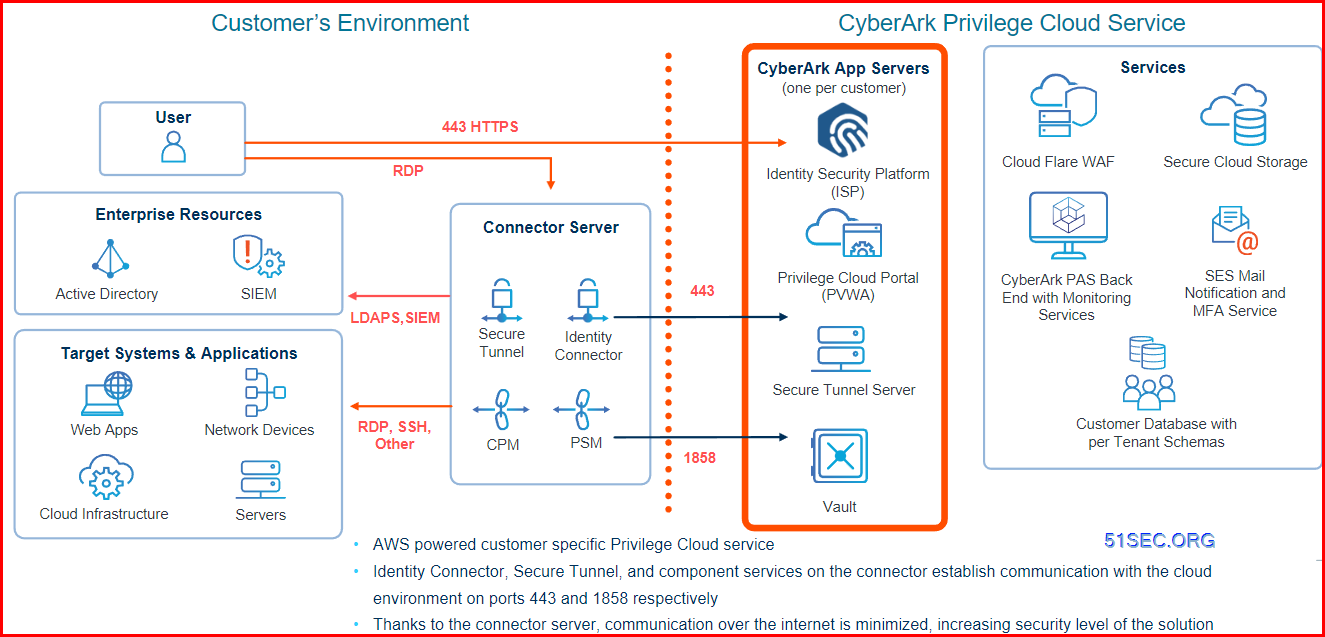 Privilege Cloud enables your organization to securely store, rotate and isolate credentials (for both human and non-human users), monitor sessions, and deliver scalable risk reduction to the business.
The Privilege Cloud customer setup includes:
The Windows Connector (Connector) for establishing privileged sessions with Windows target machines
Optionally, Secure Tunnel client, for SIEM syslog and setup of offline access using CyberArk Remote Access
Optionally, the Unix connector (PSM for SSH) for establishing privileged sessions with Unix target machines.
For details on each of these components, see
Welcome to CyberArk Privilege Cloud
.
The Privilege Cloud cloud service includes:
Privilege Cloud Portal user interface for setting up and managing user access privileges to your organizational resources
Vault enables organizations to secure, manage, automatically change and log all activities associated with all Privileged Passwords and SSH Keys.
Standard Components / Roles for CyberArk Privilege Cloud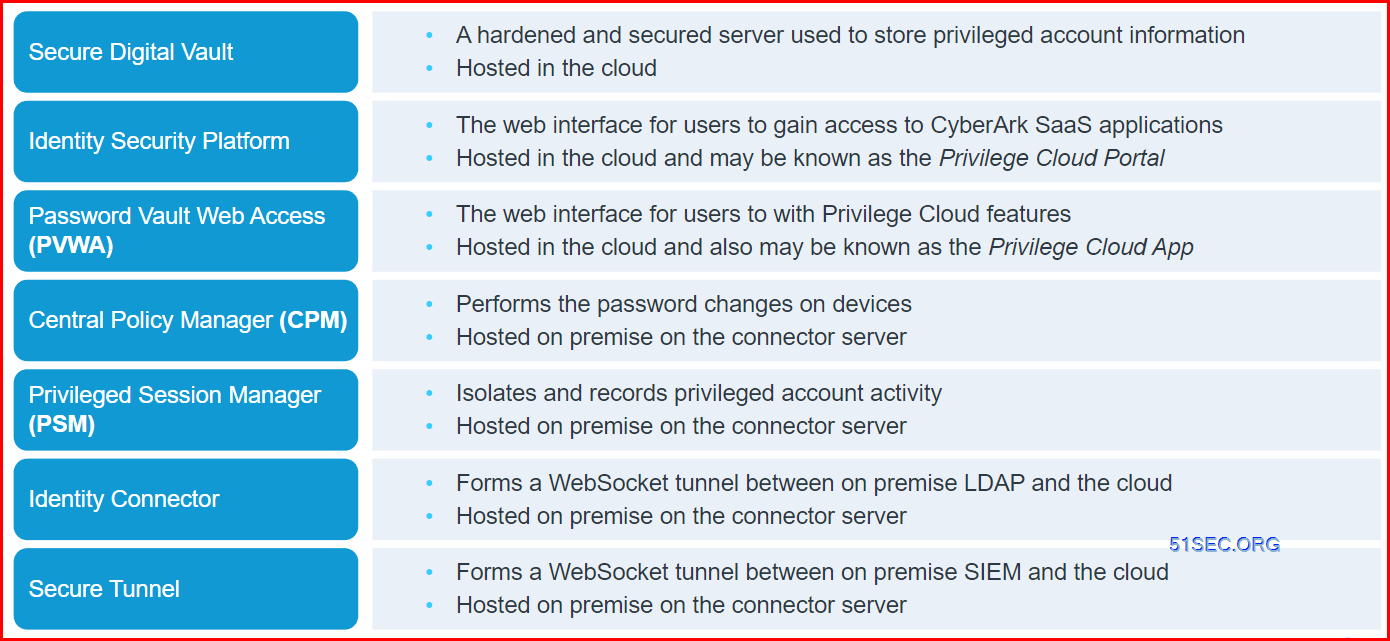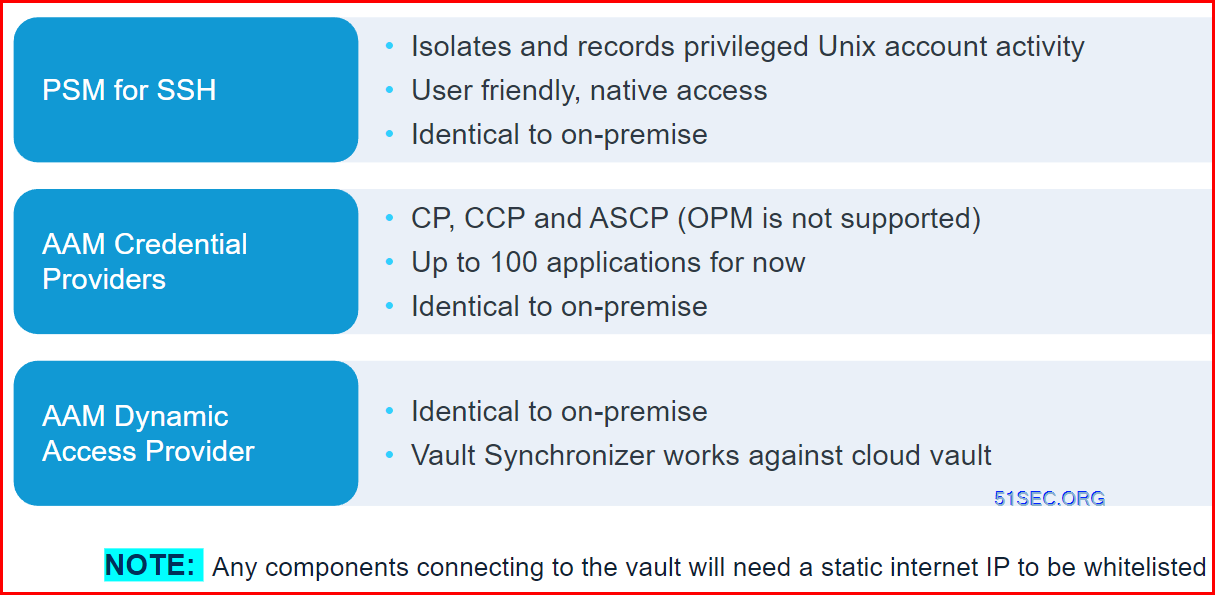 Three Phases Implementation Program
Privilege access projects can vary between organizations, based on priorities, technologies in use, and more. We understand this. We want to offer a path that we see as optimal, based on
CyberArk
's vast experience in protecting organizations. You can decide how, and in what order to execute the plan to best meet your needs.
With these guidelines and CyberArk's assistance, you can build a successful and, ultimately, mature privileged account security program.
Access your organization's P-Cloud: 
https://<subdomain>.cyberark.cloud
Connector
Connector servers are quired to be installed in the customer's environment.
CPM = Password Manager
PSM
Identity Connector
Secure Tunnel
Limitation or Differences from Self Hosted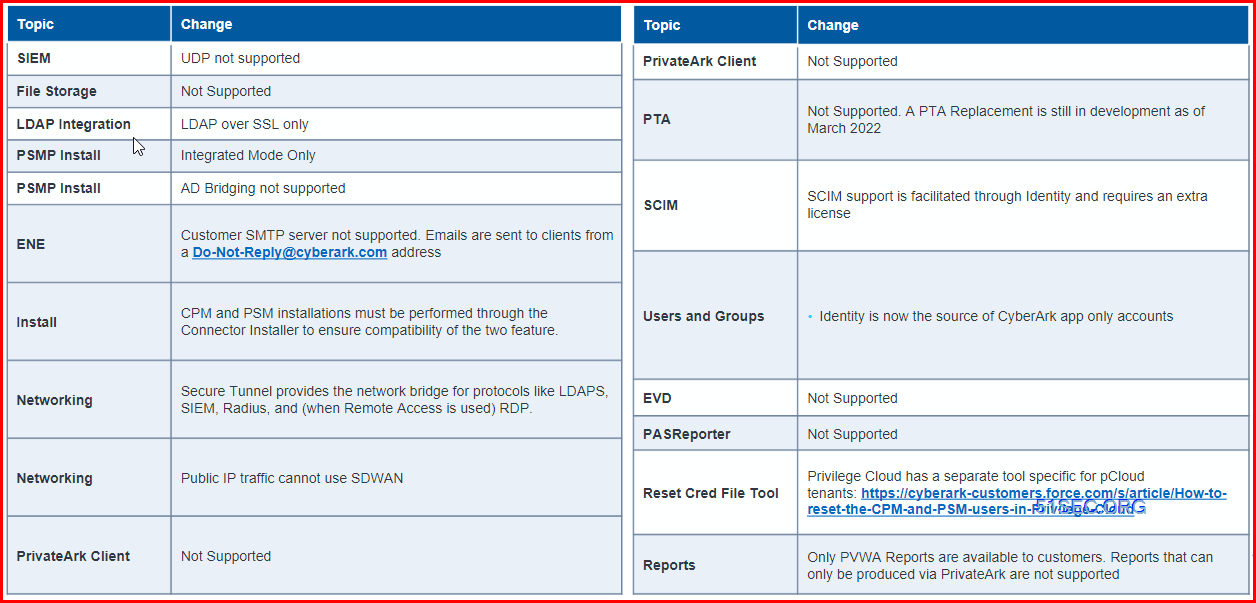 What is A Privileged Account?
Typically, the number of privileged accounts in an organization is three times the number of employees.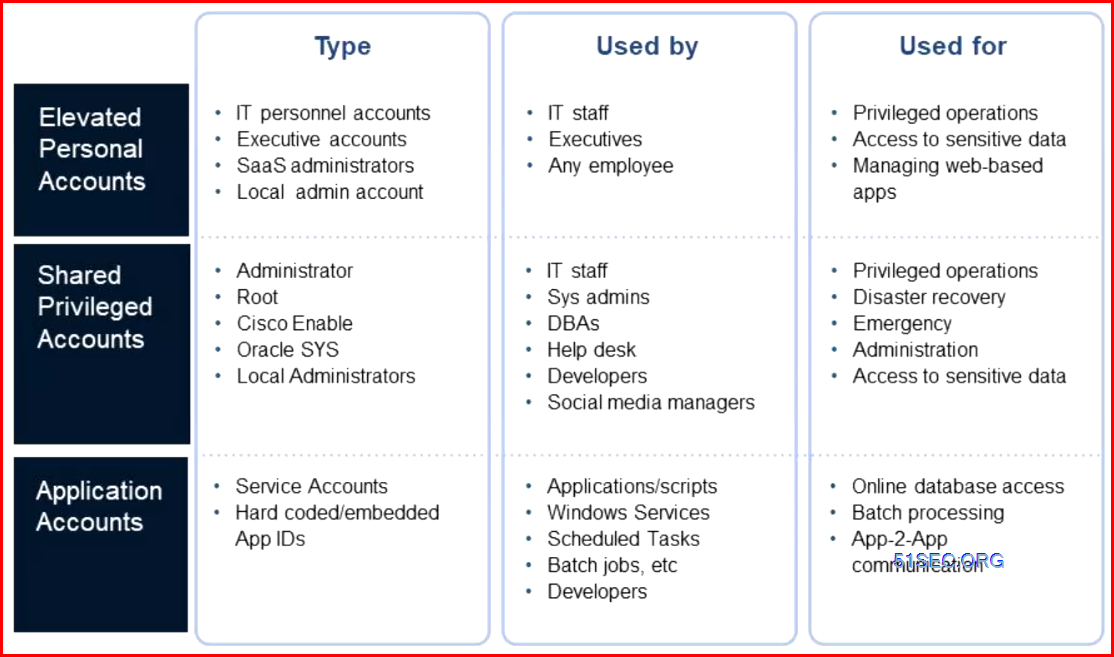 Privilege Account Type:
Windows Domain / Local
Windows Service Accounts
Unix
Database
Cloud
Network
VMWare
Mainframe
Application - such as ServiceNow Secrets Manager
Security Appliance
Other Account Types
Integrations:
Authentication Methods : LDAP(s), Radius, SAML
Authorization Integration(s) : LDAP Groups and Users , Other
Domain End Users Authenticate from : 
Ticketing System: ServiceNow, BMC Remedy, Other
SIEM Integration
How many privileged accounts an organization will have averagely? 3 times of your emplyees numbers.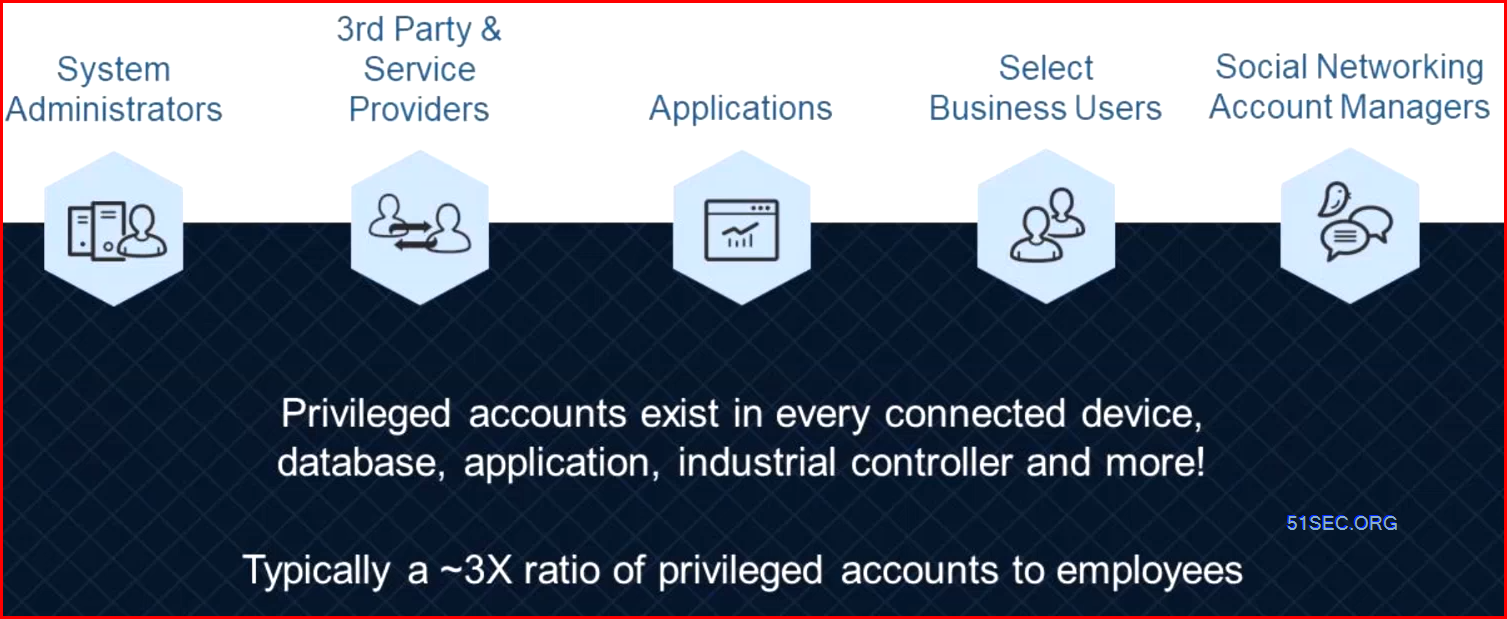 Protect Cloud and SaaS Applications: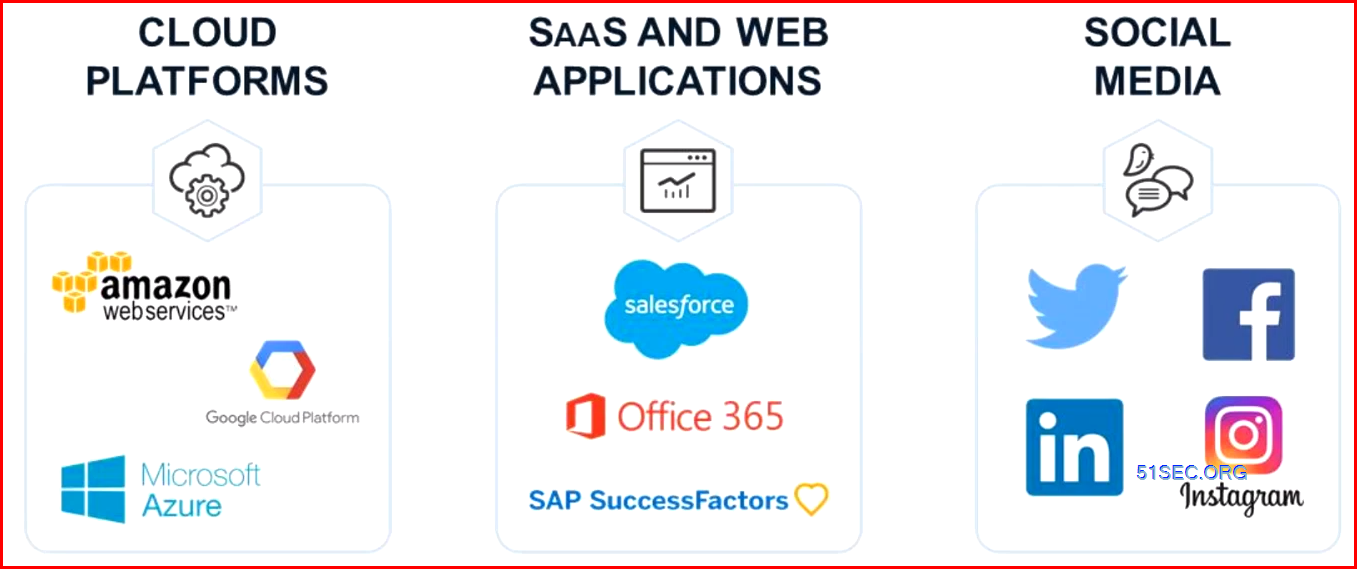 Securing the console and CLI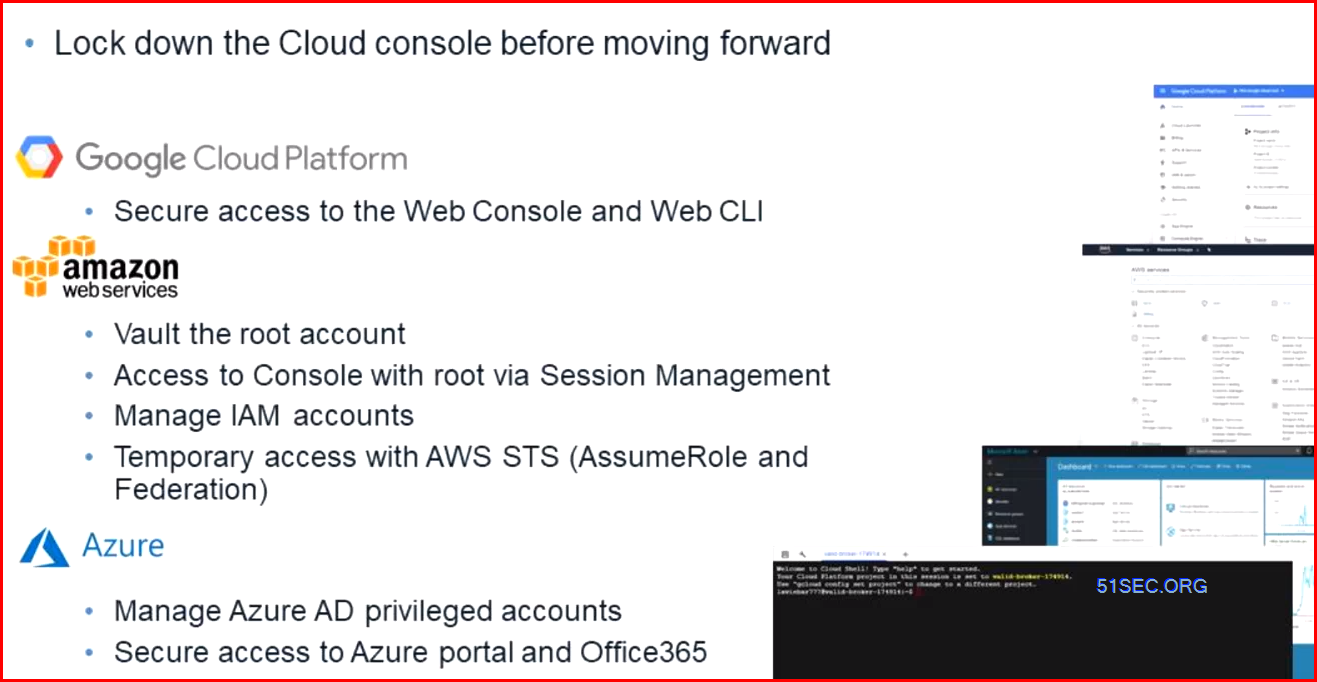 Event Driven Automatic Onboarding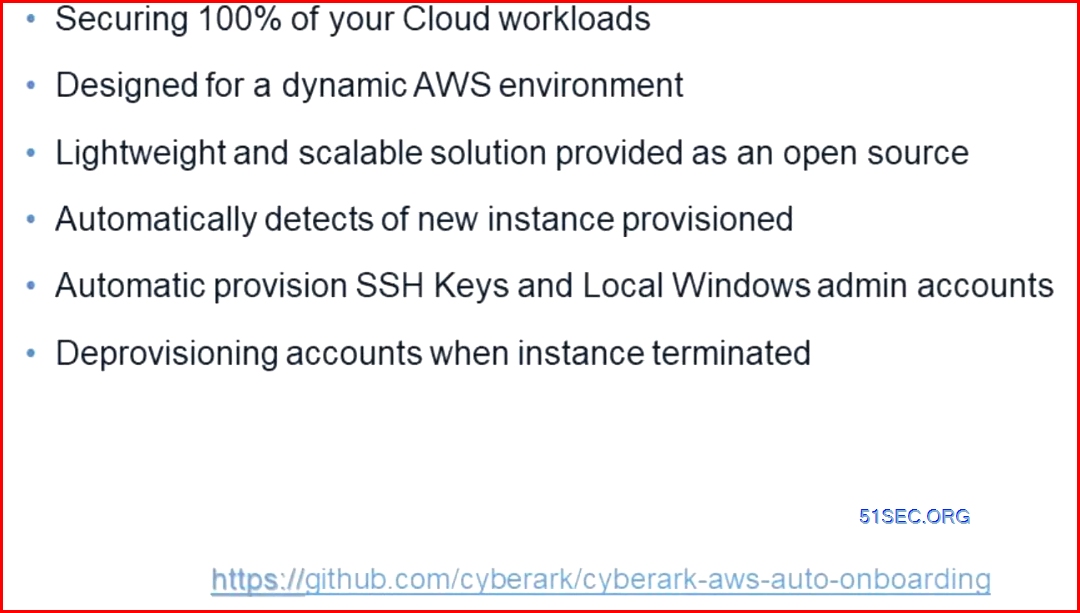 Baseline your accoutns - Discovery Tools
What is CyberArk DNA?
CyberArk DNA is a discovery and audit tool that automatically scans an organization's network for data related to privileged and non-privileged accounts. The scanner automatically discovers and analyzes any privileged and nonprivileged account within servers and desktops, and then generates a report and visual organizational map that evaluates the privileged account security status in the organization.
Run DNA in your network
Before you can run DNA, you need to set it up on a network machine. All the information for setting up and running DNA can be found in the CyberArk DNA User Guide.















PAS Program Common Risks & Mitigations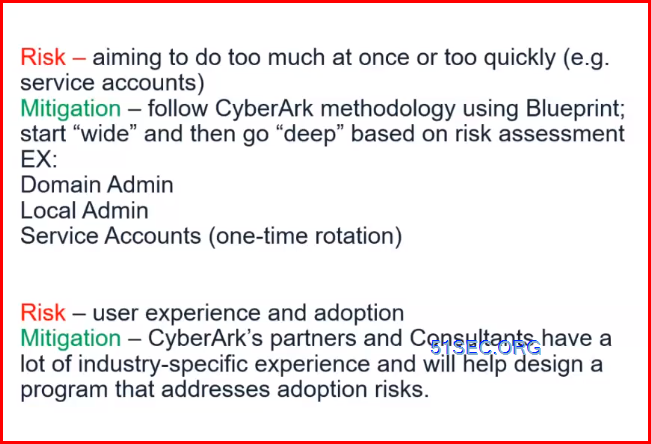 Note: https://cyberark.wistia.com/medias/u81ofnivie
PIM vs PAM
PIM

"Azure Active Directory (Azure AD) Privileged Identity Management (PIM) is a service that enables you to manage, control, and monitor access to important resources in your organization. These resources include resources in Azure AD, Azure, and other Microsoft Online Services like Office 365 or Microsoft Intune," Microsoft explained.
Privileged Identity Management provides time-based and approval-based role activation to mitigate the risks of excessive, unnecessary, or misused access permissions on resources that you care about. 
Here are some of the key features of Privileged Identity Management:
PAM
"Privileged access management allows granular access control over privileged admin tasks in Office 365. It can help protect your organization from breaches that use existing privileged admin accounts with standing access to sensitive data or access to critical configuration settings," Microsoft argued. "Privileged access management requires users to request just-in-time access to complete elevated and privileged tasks through a highly scoped and time-bounded approval workflow. This configuration gives users just-enough-access to perform the task at hand, without risking exposure of sensitive data or critical configuration settings. Enabling privileged access management in Microsoft 365 allows your organization to operate with zero standing privileges and provide a layer of defense against standing administrative access vulnerabilities."
Note: https://learn.microsoft.com/en-us/microsoft-identity-manager/pam/privileged-identity-management-for-active-directory-domain-services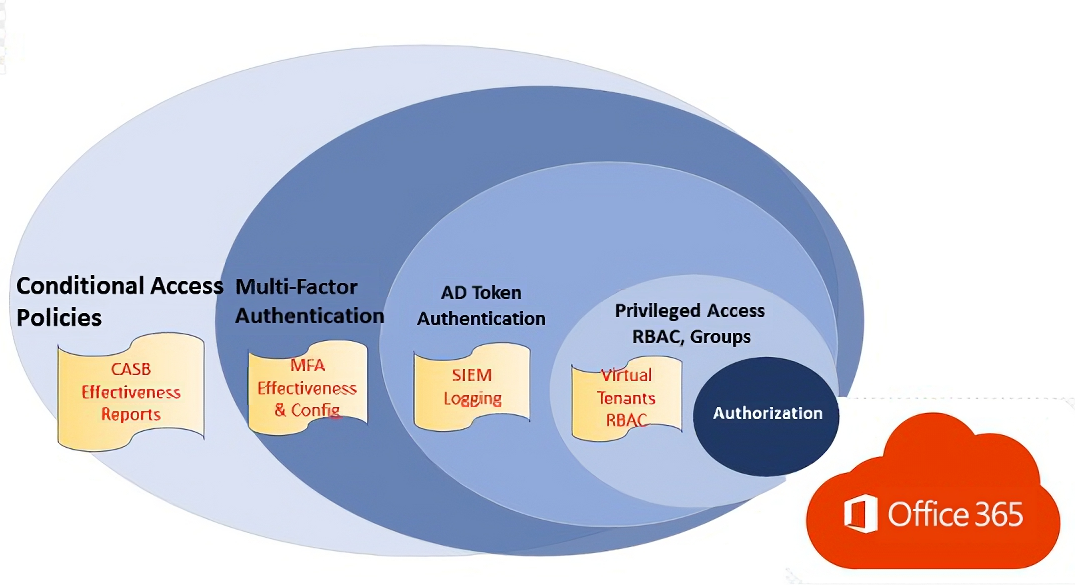 MIM PAM is distinct from
Azure Active Directory Privileged Identity Management
(PIM). MIM PAM is intended for isolated on-premises AD environments. Azure AD PIM is a service in Azure AD that enables you to manage, control, and monitor access to resources in Azure AD, Azure, and other Microsoft Online Services such as Microsoft 365 or Microsoft Intune. For guidance on on-premises Internet-connected environments and hybrid environments, see
securing privileged access
for more information.
MIM = Microsoft Identity Management -  also called Microsoft Identity Manager 2016 or MIM -- is an on-premises tool that enables organizations to manage access, users, policies and credentials. MIM is a server-based synchronization engine and is the successor to Microsoft's Forefront Identity Manager 2010 R2.