[Cybersecurity Architecture] Policy / Standards / Procedures Framework with an Example
Every organisation needs to implement a good policy framework with a document hierarchy.  Cybersecurity frameworks are generally applicable to all organizations, regardless of their size, industry, or sector. The hierarchy flows like this: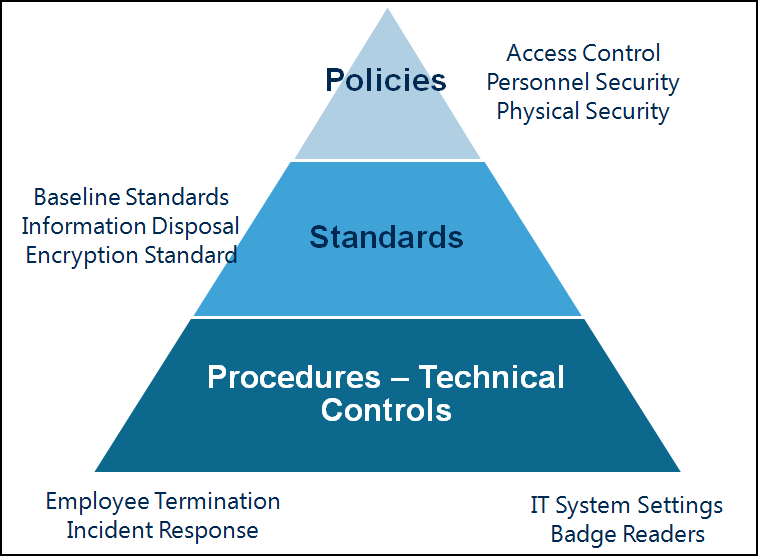 Cybersecurity Policy
Policy relates to a decision of the governing body of an organisation. A policy is typically an internal organisational decision that aids how it functions. A policy is a formal statement of a principle that should be followed by its intended audience. Each policy should address an important issue concerning the achievement of the overall purpose of the organisation. So a policy on health and safety in the workplace addresses the relevance of safety to the enterprise and to whom the principles apply. The policy must link with the strategic objectives (such as improved service quality, reduced costs and fewer injuries). 
An example of a policy that you will typically find in organisations is: "Legal services review all third party contracts". In this example, the decision from the governing body is that legal services review third party contracts. This means that no other department in the organisation has permission to review third-party contracts other than legal services.
Policy is mandatory.
1 Charter
2 Policy
Acceptable Use Policy
Password Policy
Backup Policy
Network Access Policy
Incident Response Policy
Remote Access Policy
Virtual Private Network (VPN) Policy
Guest Access Policy
Wireless Policy
Third Party Connection Policy
Network Security Policy
Encryption Policy
Confidential Data Policy
Data Classification Policy
Mobile Device Policy
Retention Policy
Outsourcing Policy
Physical Security Policy
E-mail Policy

https://www.sans.org/information-security-policy/
3 Employment handbook
4 Others
Procedures & Controls
A procedure provides detailed mandatory steps (sometimes in the form of a checklist) someone needs to follow to achieve a recurring task or comply with a policy. These procedures can include step by step instructions or statements telling you where something needs to go. A procedure informs employees how to carry out or implement a policy. Procedures usually contain written instructions in logical numbered steps.
COVID-19 Guidance For Working Remotely
Business Continuity Requests
Credit Card Processing Procedures
Data Privacy Procedures
Patch Management Procedure
Third Party Security Procedures
Export Control 
Incident Response Procedure
Vulnerability Management Procedure
Policy Exception Procedure
PCI DSS Assessment Procedure
System Security Plan and Assessment Procedure
Standard
A standard specifies uniform uses of specific technologies or configurations. Here we are talking about a specific internal standard of an organisation. People sometimes talk about employment standards or rules (like rules of conduct or performance). These do fall within this category. 
The other kind of standard is one that is issued by a third party (for example an industry body like ISO). For example, the ISO 27000 suite or data protection standards. Third-party rules (like professional rules) or codes (like the code of conduct of an association) are often associated with third-party standards.
An example of a standard is: "All contracts have the following typography: Font: Arial; Font Size: 8; Margin Type: Normal". Standards are often standalone and referenced in policies. In your policy, you will find the following statement: "We use the contract standard to review our contracts". In this example, the policy refers to the standard and the standard assists the target audience comply with the policy.
1 Name Convention
2 Patching and Updates 
3 Vulnerability Scanning and Remediation Standard 
4 Device, Server, Host Hardening 
5
 Compliance - PCI, CIS, ISO27001, NIST, etc
Examples:
Approved Endpoint Software
Data Protection Safeguards
Data Protection Safeguards - Cloud Computing
Data Protection Safeguards - Endpoints
Data Protection Safeguards - Mobile Devices
Data Protection Safeguards - Servers
Data Categorization
Encryption Standard
Network Firewall Standards
Terms of Use (login banner)
SSH Server Standard
Email Standard
Web Server Standard
Guide / Guideline
A guideline provides general guidance, and additional advice and support for policies, standards or procedures. A guideline gives the reader guidance and additional information to help the audience. It will also assist the policymaker in explaining the policy to the policy audience in simpler terms. Many people confuse a guideline with a policy because a guideline contains similar content to a policy. The biggest difference between the two is that a guideline is voluntary and policy is always mandatory.
An example of a guideline is: "Before reviewing a contract, try to gather as much relevant information about the transaction as possible. Find out what the parties believe to be the significant risks". One of the modules in our programme called having good policies in place is also an example of guidance for policies.
1 Operation Schedule
Patching/Updating
Scanning
Compliance
2 Change Request
3 Risk Registrar
4 Incidence List
5
Travelling request form
Example of guidelines
Incidental Use Guidelines
Approved Change Request Form - IT Software
Approved Change Request Form - OS upgrades
Change Request Form
Key Log Form
Third Party Security Questionnaire
Visitor Log
Compliance Documents
Example
NIST 800-171 - Protecting Controlled Unclassified Information in Nonfederal Systems and Organization