Add Your Own Domain into Free Microsoft 365 Subscription
If you have your own domain, either purchased from domain registrar or applied it from some free domain service provider, you can add domain into Office 365 account to get you own domain's O365 service. 
You also can try to get free Microsoft 365 business basic subscription from following link:
Free Domain and Free Email Service
Here are two posts for free domain service provider EU.ORG and PP.UA
Free Email Services:
Get Free Microsoft 365 Subscription
You can have a free Microsoft 365 Developer subscription from this link:
https://developer.microsoft.com/en-us/microsoft-365/dev-program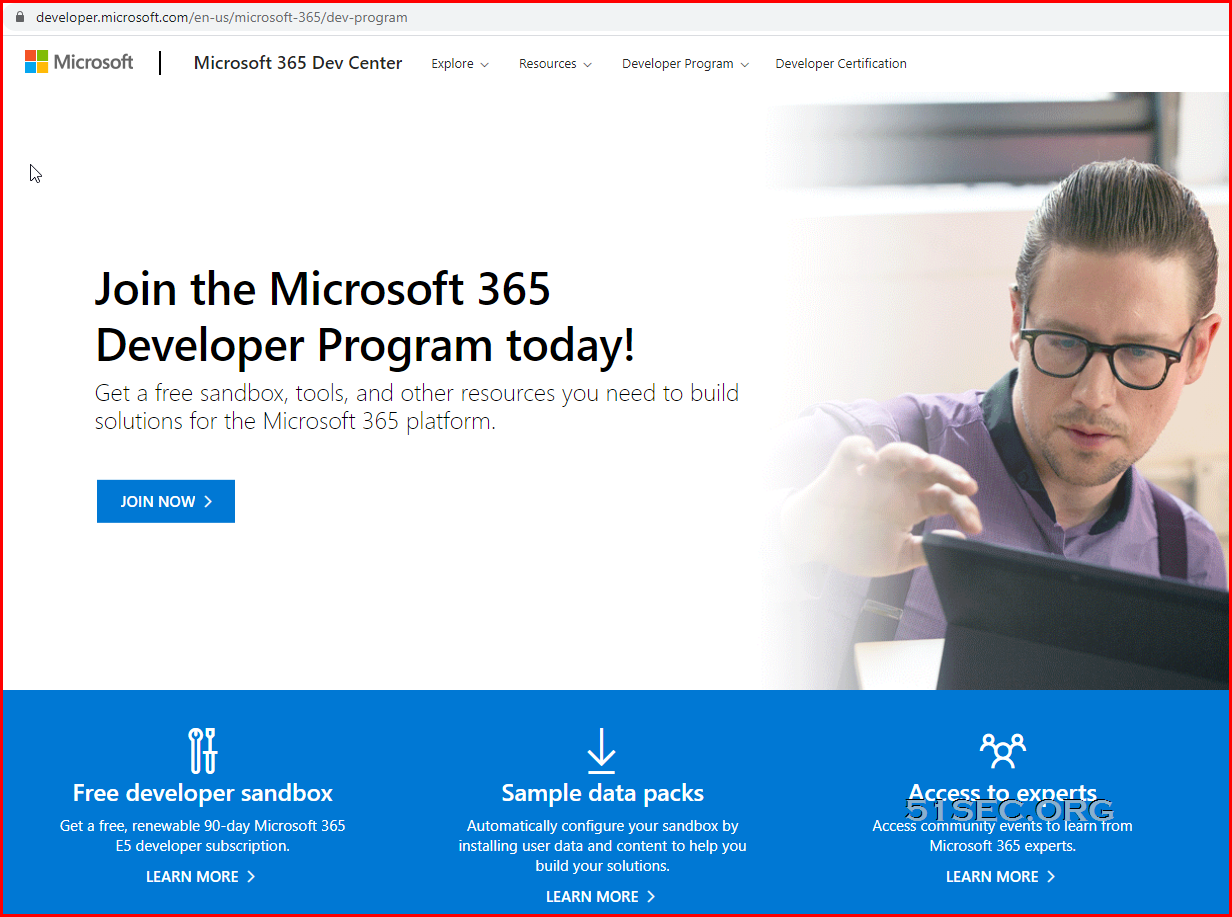 Get a free Microsoft 365 E5 developer subscription​ to b
e your own administrator and prototype apps and solutions on your sandbox subscription.
Includes 25 user licenses for development purposes
Access core Microsoft 365 workloads and capabilities (Windows not included), including:
All Office 365 apps including SharePoint, OneDrive, Outlook/Exchange, Teams, Planner, Word, Excel, PowerPoint, and more
Office 365 Advanced Threat Protection
Advanced analytics with Power BI
Enterprise Mobility + Security (EMS) for compliance and information protection
Azure Active Directory for building advanced identity and access management solutions
You can login into your O365 with your admin account, then select Admin app to start integrating your domain with your account: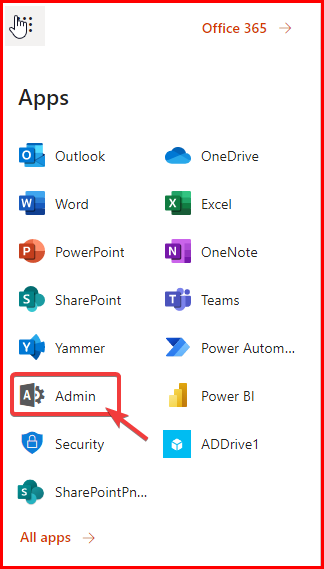 At Microsoft 365 admin center, click Settings -> Domains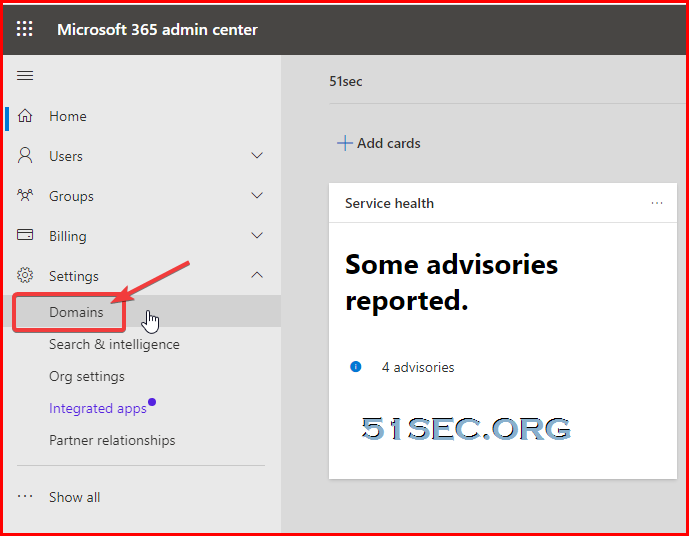 The interface or menu might change a bit by Microsoft when you are working on it, but you always can find a option from Setup menu to start this domain configuration: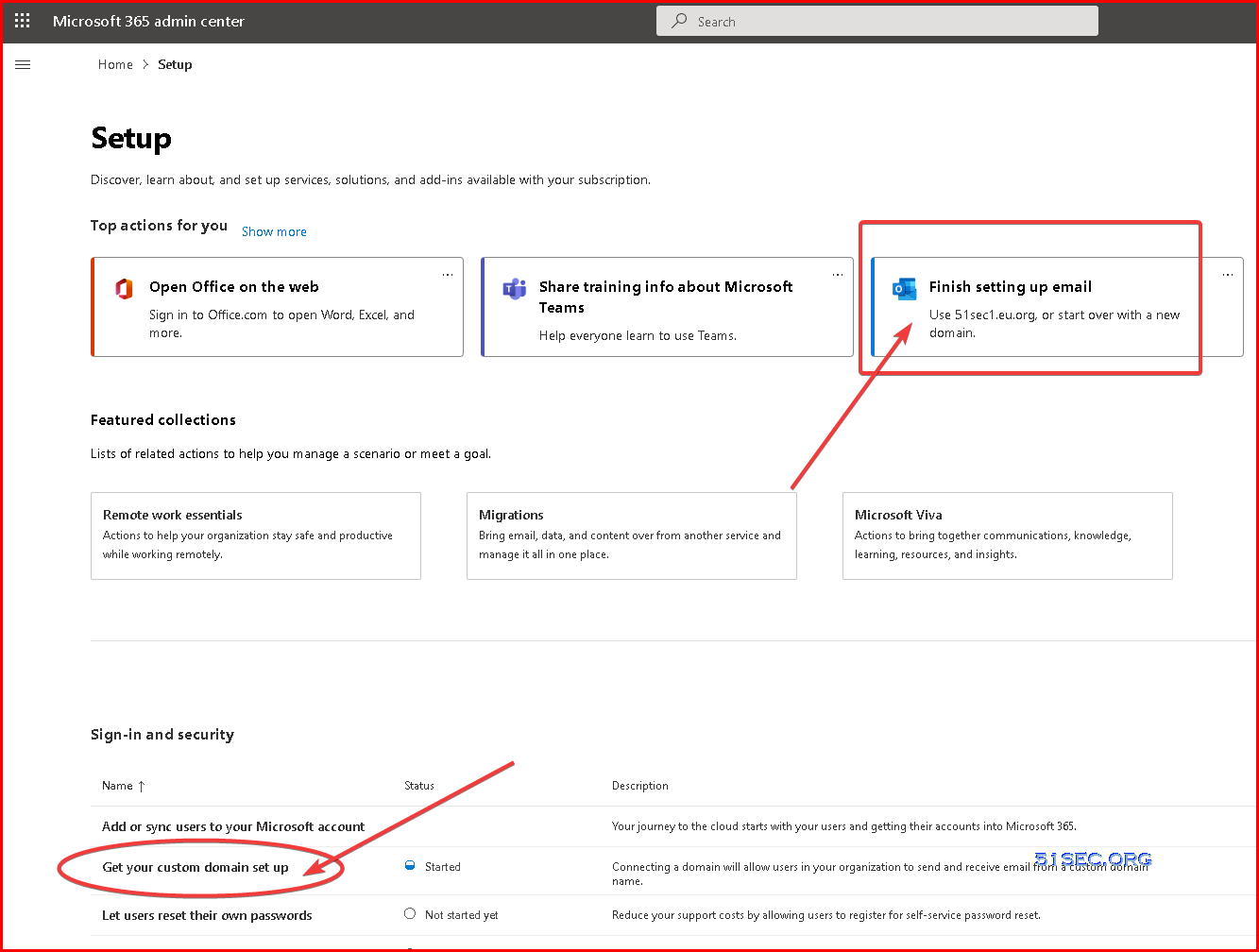 Or, you can start it from Azure Console -> Azure Active Directory
You can switch to the tenant you want to assign new domain first, then click Custom domain name for this tenant.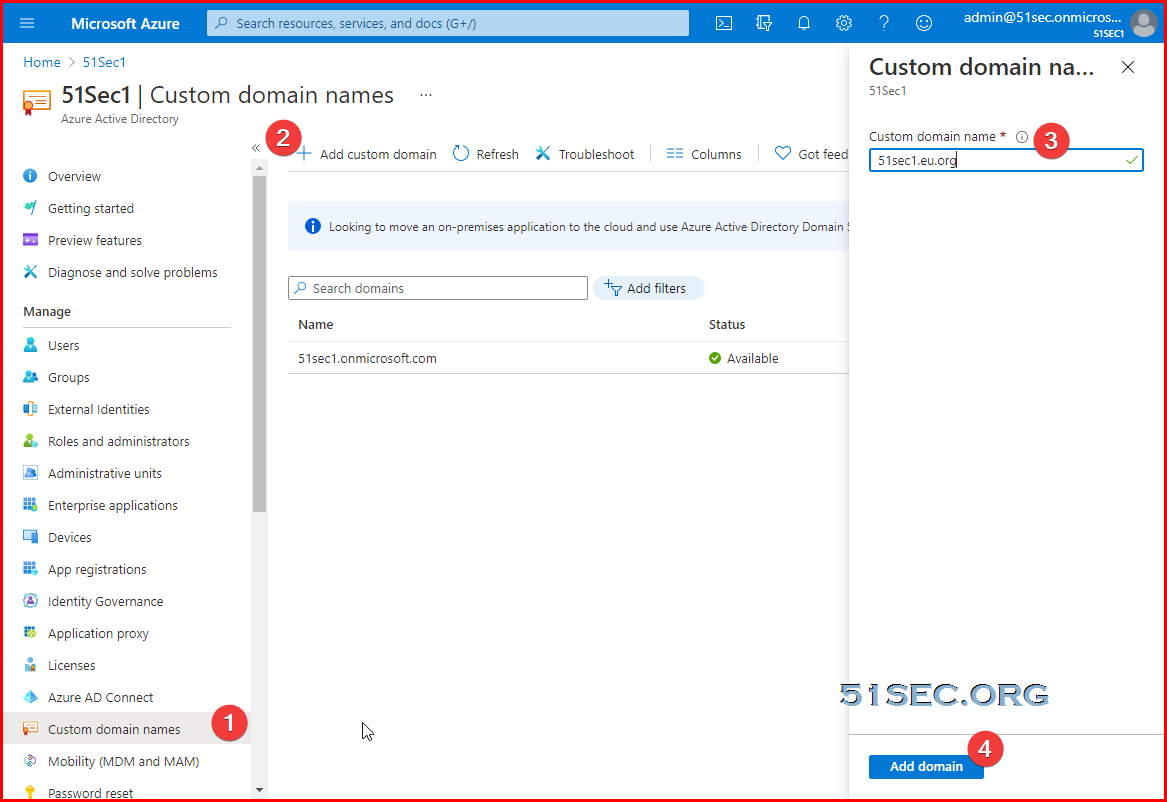 You will need to verify your new domain ownership by adding a txt record into your domain name registrar using following informaiton: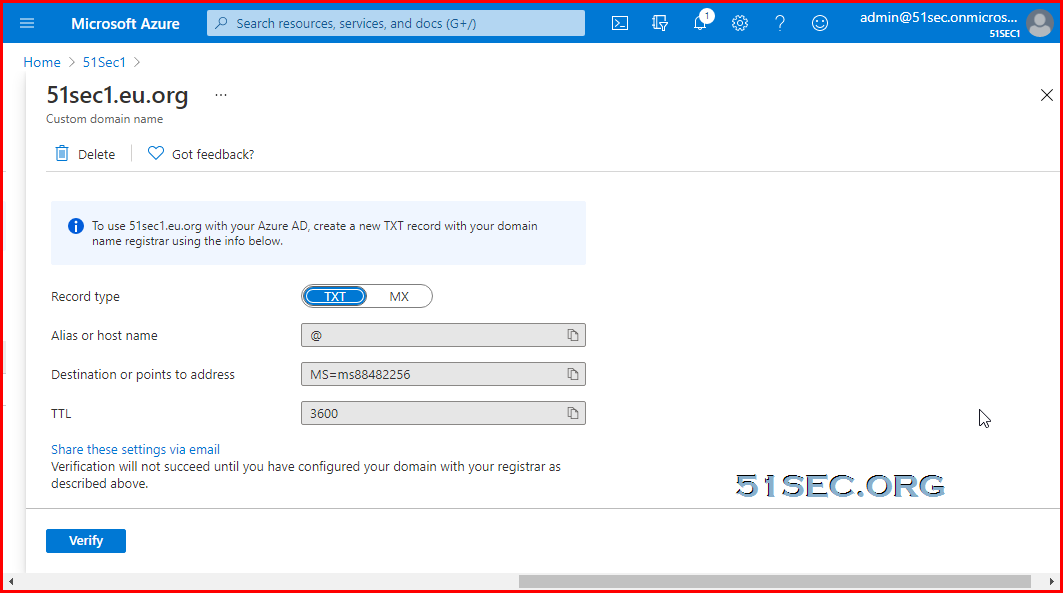 You also can start to add your domain from Domains page.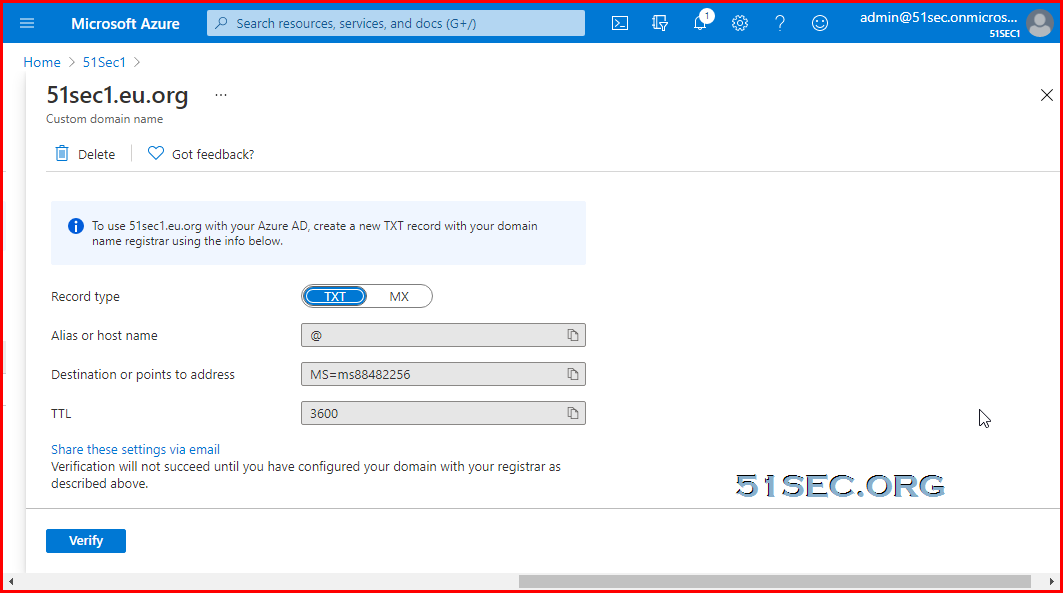 There are three different ways to verify your domain: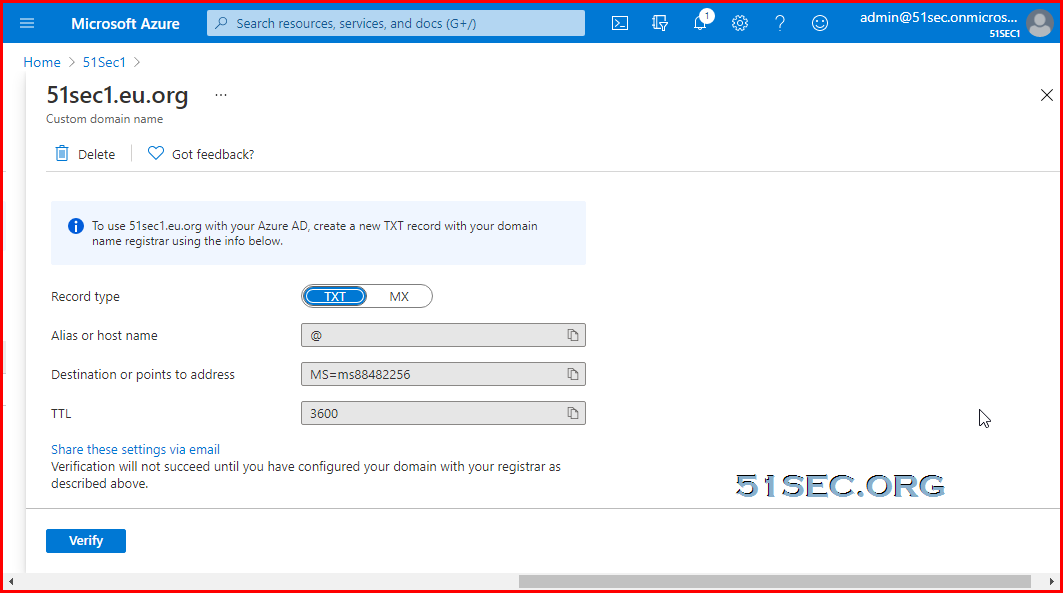 After verified your domain, there are three more dns records will need to be added into your domain name registrar: (from the admin center at https://admin.microsoft.com.)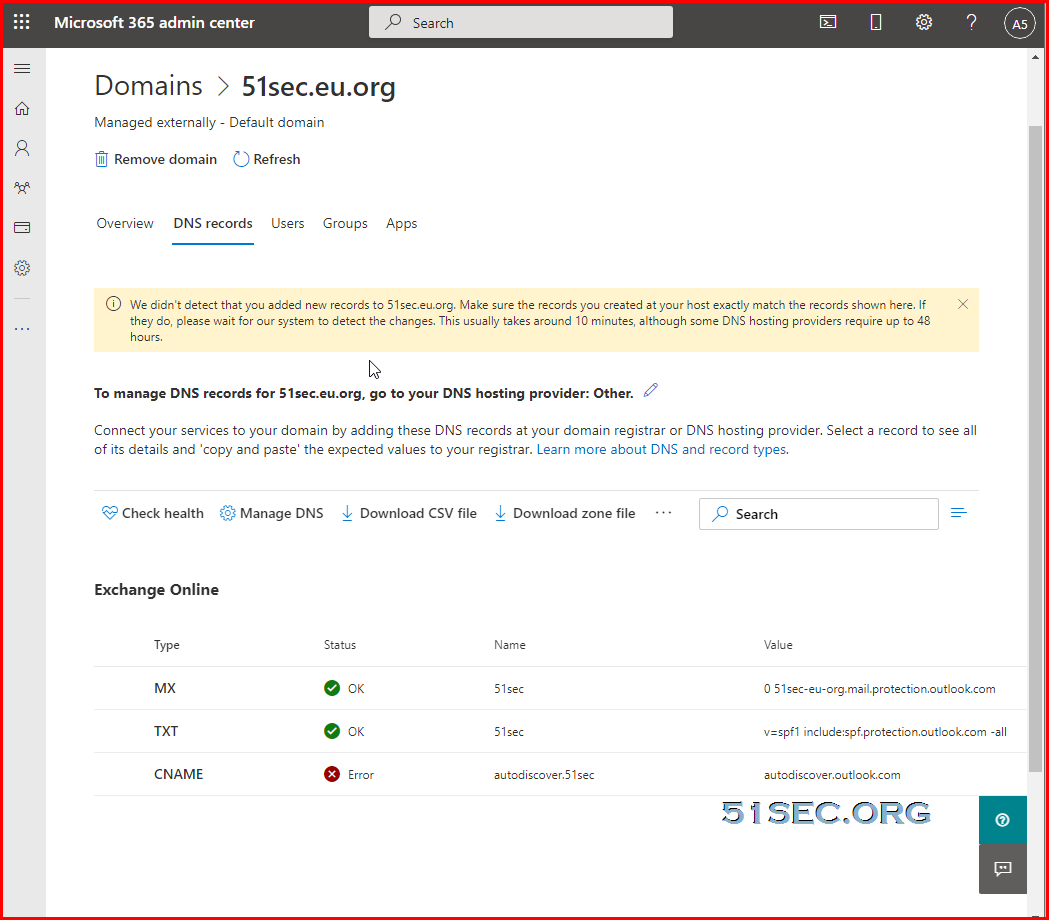 The settings in above screen is mis-leading. 
In Cloudflare, actually, I will have to put following values for those three dns records: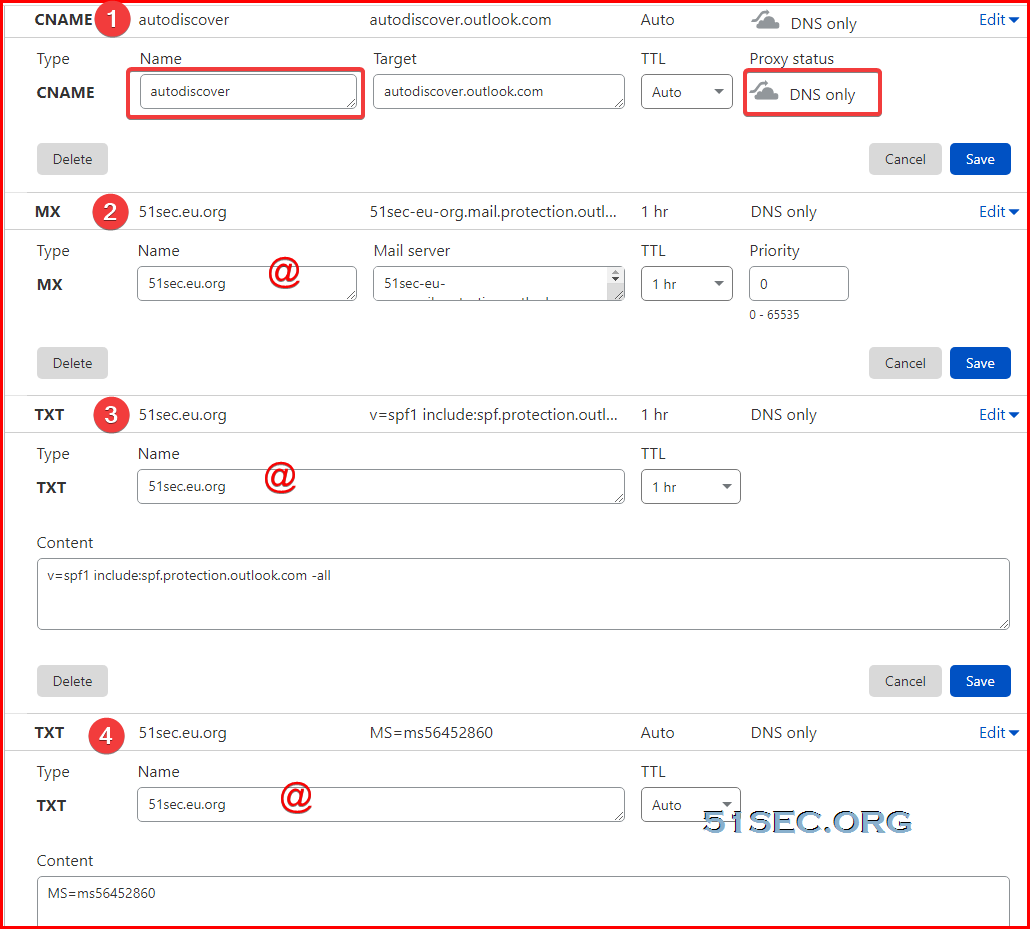 For cname record, you will have to disable proxy, and use dns only for proxy status. After disabled proxy for your cname record, you should get all green for your dns health status.

Add a domain for your Microsoft 365 (Office 365)
Your company might need multiple domain names for different purposes. For example, you might want to add a different spelling of your company name because customers are already using it and their communications have failed to reach you.
In the Microsoft 365 admin center, choose 

Setup

.
Under 

Get your custom domain set up

, select 

View

 > 

Manage

 > 

Add domain

.
Enter the new domain name that you want to add, and then select 

Next

.
Sign in to your domain registrar, and then select 

Next

.
Choose the services for your new domain.
Select 

Next

 > 

Authorize

 > 

Next

, and then 

Finish

. Your new domain has been added.
Add a domain
Follow these steps to add, set up, or continue setting up a domain.
Go to the Settings > Domains page.

Select Add domain.

Enter the name of the domain you want to add, then select Next.

Choose how you want to verify that you own the domain.

If your domain registrar uses Domain Connect, Microsoft will set up your records automatically by having you sign in to your registrar and confirm the connection to Microsoft 365. You'll be returned to the admin center and Microsoft will then automatically verify your domain.
You can use a TXT record to verify your domain. Select this and select 

Next

 to see instructions for how to add this DNS record to your registrar's website. This can take up to 30 minutes to verify after you've added the record.
You can add a text file to your domain's website. Select and download the .txt file from the setup wizard, then upload the file to your website's top level folder. The path to the file should look similar to: http://mydomain.com/ms39978200.txt. We'll confirm you own the domain by finding the file on your website.

Choose how you want to make the DNS changes required for Microsoft to use your domain.

Choose 

Add the DNS records for me

 if your registrar supports Domain Connect, and Microsoft will set up your records automatically by having you sign in to your registrar and confirm the connection to Microsoft 365.
Choose 

I'll add the DNS records myself

 if you want to attach only specific Microsoft 365 services to your domain or if you want to skip this for now and do this later. 

Choose this option if you know exactly what you're doing.

If you chose to add DNS records yourself , select Next and you'll see a page with all the records that you need to add to your registrars website to set up your domain.

If the portal doesn't recognize your registrar, you can follow these general instructions.

If you don't know the DNS hosting provider or domain registrar for your domain, see Find your domain registrar or DNS hosting provider.

If you want to wait for later, either unselect all the services and click Continue, or in the previous domain connection step choose More Options and select Skip this for now.

Select Finish - you're done!
Add or edit custom DNS records
Follow the steps below to add a custom record for a website or 3rd party service.
Sign in to the Microsoft admin center at https://admin.microsoft.com.

Go to the Settings > Domains page.

On the Domains page, select a domain.

Under DNS settings, select Custom Records; then select New custom record.

Select the type of DNS record you want to add and type the information for the new record.

Select Save.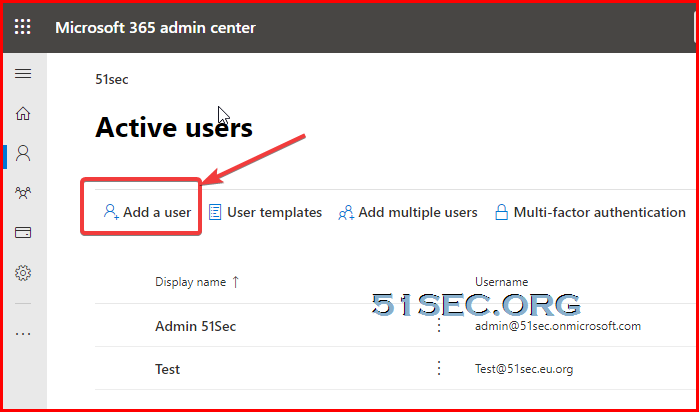 Note: make sure this user has a location defined when creating  it. Else when you assign m365 license, it will give you an error for failed to assign license to this user.