Gartner defines the unified threat management (UTM) market as multifunction network security products used by small or midsize businesses (SMBs) (< 1000 employees).
2017 Gartner Magic Quadrant for Unified Threat Management (SMB Multifunction Firewalls)
Not much changes from 2016.
2016 - Fortinet in Leader Quadrant 7 Years in a Row since 2009
Fortinet, Check Point and Sophos are in Leader Quadrant this year.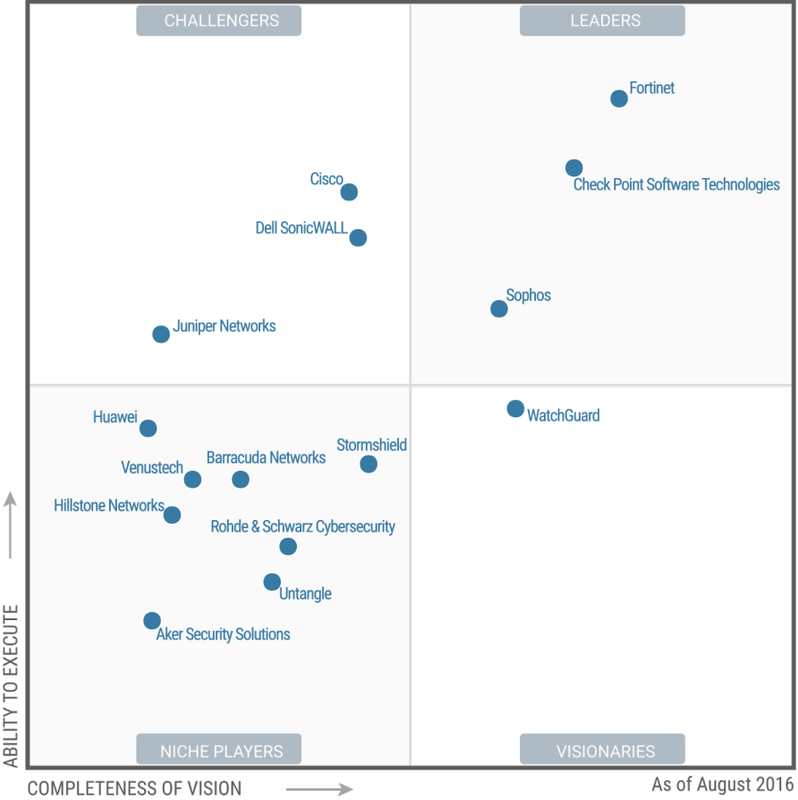 Reference:
2015
Checkpoint named a leader in the Gartner UTM Magic Quadrant 5 years in a row, and since 2008, Checkpoint only missed Gartner UTM 2009's report in leader quadrant.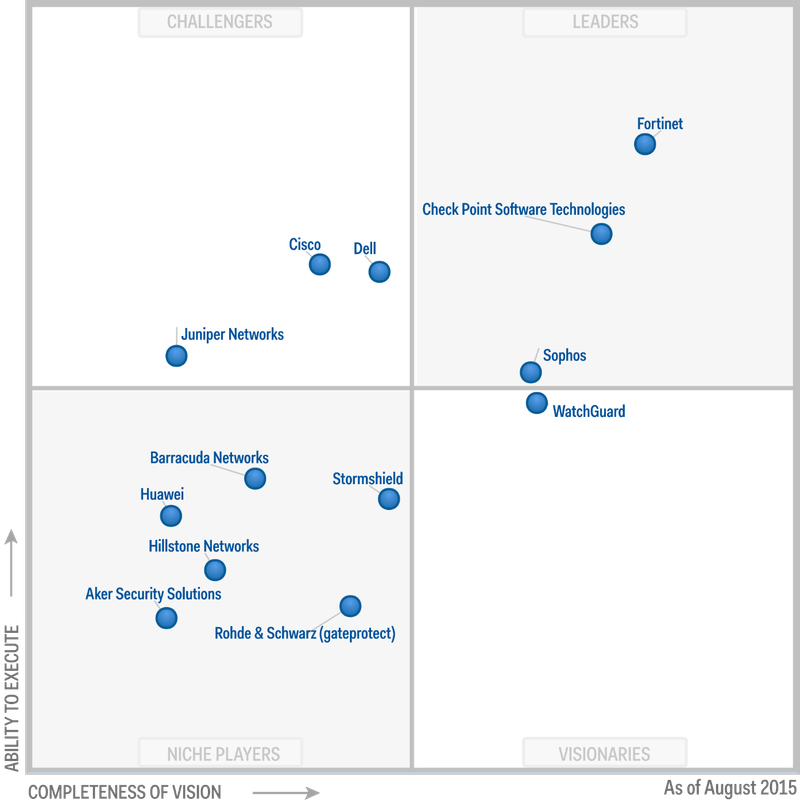 Reference:
2014
Gartner has positioned Check Point as a Leader in the Magic Quadrant for the fourth consecutive year in Unified Threat Management (UTM)1. Actually not big changes from 2013's report. Stormshield replaced Netasq into Visionaries quadrant.
2013
Figure1: 2013 July, Gartner Magic Quadrant for UTM (Unified Thread Management)
According to Gartner, vendors in the UTM Leaders Quadrant are "at the forefront of making and selling UTM products that are built for midsize business requirements. The requirements necessary for leadership include a wide range of models to cover midsize business use cases, support for multiple features, and a management and reporting capability that's designed for ease of use. Vendors in this quadrant lead the market in offering new safeguarding features, and in enabling customers to deploy them inexpensively without significantly affecting the end-user experience or increasing staffing burdens. These vendors also have a good track record of avoiding vulnerabilities in their security products. Common characteristics include reliability, consistent throughput, and a product that's intuitive to manage and administer."
Checkpoint is continuing its leader position in 2013 Gartner's Unified Threat Management (UTM) Magic Quadrant for the third consecutive year.
2012
Figure2: 2012 March, Gartner Magic Quadrant for UTM (Unified Thread Management)
2010 - Checkpoint Came back into Leader Quadrant
Figure 3: 2010 Oct, Gartner Magic Quadrant for UTM (Unified Thread Management)
2009 - Checkpoint was not named into leader, but in niche players quadrant.
Figure 4: 2009 June Gartner Magic Quadrant for UTM (Unified Thread Management)
Note: This year, Checkpoint was not rated by Gartner as Leader Quadrant
2008
Figure 5: 2008 Nov, Gartner Magic Quadrant for UTM (Unified Thread Management)